Ubiquiti CEO Confronts Counterfeiters and the NBA
Andy Meek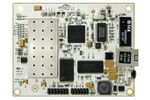 Robert Pera is a former Apple engineer who in 2005 started his own Silicon Valley company, Ubiquiti Networks, which sells wireless communications technology mostly to emerging markets. The company went public last year. On Aug. 9 it offered negative guidance due to counterfeiters' success in copying several Ubiquiti products.
The company's shares were pummeled on Friday, down 42 percent at midday. Ubiquiti was a $35 stock just months ago but now trades for less than $9, after UBS, Deutsche Bank, Wedbush Securities, Capstone, and Pacific Crest Securities all downgraded the stock.
Amid the drama surrounding his company, Pera is also seeking to buy the National Basketball Association's Memphis Grizzlies from its current owner, Chicago billionaire Michael Heisley. At a recent Board of Governors meeting in Las Vegas, NBA Commissioner David Stern said Pera's bid "is proceeding on pace, and we hope in the next couple of months to be able to approve that." Pera's wealth is tied primarily to his 58 million shares of Ubiquiti, a stake valued at $868 million before the stock's steep selloff Friday.
Ubiquiti reported revenue of almost $95 million for its fiscal fourth quarter, up 40 percent from $67.6 million during the same period last year. For the next few months, though, the San Jose (Calif.)-based company expects rampant counterfeiting of its products to take a toll on its business. According to the company, the amount of counterfeited goods in the marketplace, "combined with the impact it has on our distributors' inventory and the purchasing patterns of our customers, will impact our business outlook for the next two fiscal quarters." Ubiquiti said it has taken "comprehensive legal action" to minimize those effects, including the recent hire of a new general counsel and the beefing up of legal teams in the U.S. and Asia. In July the company said it had won a preliminary injunction in U.S. District Court in California against Kozumi USA and that firm's owner from using Ubiquiti's trademarks.
"The problem we have is not like counterfeit shoes or Gucci purses showing up in shopping areas where people know they're buying counterfeit goods," Pera told analysts. "What we're facing are a group of very resourceful ex-distributors who know our sales channel, have managed to get our [intellectual property] in China, set up manufacturing facilities, and have basically placed their products in legitimate sales channels," he said. "This is almost like identity theft in a way."
In a tweet on Thursday, CNBC commentator Herb Greenberg quipped: "I've seen a lot and never seen a tech company blame counterfeit goods for its problems." In a follow-up tweet, Greenberg added: "Of course, the other way to look at $UBNT: They must have a heckuva good product if it's being knocked off so ambitiously."
During a contentious conference call, a Deutsche Bank analyst asked Pera whether he still plans to buy the Grizzlies. Greenberg was also musing online whether the shares' drop would affect Pera's bid.
"I can't talk about the (basketball) deal, but regardless of whether that happens or not, it's not going to make a difference in affecting my dedication to Ubiquiti," Pera said. "My goal at this company is I want it to grow in the next years. Unfortunately, things from quarter to quarter I don't always have control over."