Transatlantic Scientific Notation
by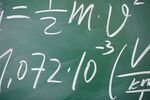 "We reject the position and portrayal of facts by the Department of Financial Service," Sands said on a conference call with reporters yesterday, his first public comments since the regulator's report on Aug. 6. "It would be disproportionate and wholly inconsistent with the actions of other U.S. authorities in other sanctions matters" to revoke the bank's New York license, he said.
—Peter Sands, Standard Chartered Bank
"This is a case about Iran, money laundering, and national security," Lawsky said. "We will continue to work closely with our law enforcement partners, both federal and state, in this effort. No bank, big or small, foreign or domestic, is above the law."
—Benjamin Lawsky, Superintendent of Banking, New York State.
Gavin Finch and Howard Mustoe: "Standard Chartered CEO Says 'No Grounds' to Revoke License," Bloomberg News, August 9, 2012.
Right about now, "other U.S. authorities" and "our law enforcement partners" seem popular among both parties.
I am still trying to sort out the process, the path, that has led to these serious allegations. Early opinion is not polarized, but rather varied as all peer into the past and present fog.
Finch and Mustoe glean one "fact"—this from Sands, the chief executive officer of the London-based bank.
Three hundred transactions as compared to 150 million transactions is a 2 with five zeroes between the 2 and the decimal point. (Britain suggests a raised decimal point, Europe a comma; Iran banned decimal points in the 70s. I'm kidding!)
That is, I believe, a small number in New York, London, and Tehran. Perhaps it is considered small in Washington.
Relive your early physics: Lawsky v. Sands may come down to 2 x 10 to the minus 6. It's time for transatlantic scientific notation. Discuss.
Before it's here, it's on the Bloomberg Terminal.
LEARN MORE