The BBC Goes Gaga for the Olympic Games
By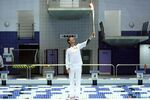 "Emotions, emotions, goodness me." This was BBC presenter John Inverdale at Dorney Lake after a pair of British rowers won silver. The two athletes were distraught, or gutted, as the English say, after being overtaken by the Danes in the final yards of the race. Inverdale patted one on the shoulder during the post-race interview. After British rowing legend, and now BBC commentator, Sir Steve Redgrave escorted them off camera, Inverdale fought back tears. "It's just, especially when you know these people, and you know them pretty well," he said. "It's quite hard being here as well."
The verklempt Inverdale was just one of many emotional displays from the BBC during the 2012 games. There was Rob Walker practically assaulting Ben Ainslie in his boat after the British sailor won his record fourth gold medal. "You are the greatest Olympic sailor in history!" Walker shouted. And Phil Jones getting hands-on with British gold medal winners as they came off the track. And first-person, plural references aplenty. "All of us have waited for a British distance gold," said Steve Cram after Mo Farah won in the 10,000 meters. During that race, the BBC's track commentators were jumping out of their seats and screaming. To be fair, they were off camera, but the network aired the footage later with the wry lead-in, "Our presentation team remained impartial throughout."
"We've reflected our audience's passion," says Barbara Slater, director of BBC Sport, when asked about the network's overt hometown bias. Slater says one of the BBC's editorial objectives is to capture "moments that unite the nation." And if that means presenters and commentators who are almost adjuncts to Team GB, so be it. "Is there support? Have we tried to capture the mood? Yes we have," she says. In many cases, she points out, the BBC's team have a longstanding rapport with the British athletes. Are there lines they've been told not to cross? "We expect that they would uphold their usual high standards," she says. (On Friday the Guardian reported on the kerfuffle over a memo in which BBC director general Mark Thompson reportedly expressed dissatisfaction with the news division's constant focus on Britain at the games.)
Unlike NBC and other Olympic broadcasters, the BBC is not catering to advertisers. The network is supported by a £145.50 ($225) annual license fee and shows no ads. It has had U.K. broadcast rights for every Olympics since 1960 and reportedly paid £60 million for the 2012 games. (BBC spokesman Scott Branch writes by e-mail that the network never divulges costs, "as this is commercially sensitive information.") So while NBC measures the return on its $1.2 billion investment in the summer games against about $1 billion in ad revenue, the BBC looks to ratings and audience appreciation surveys.
For 2012, the BBC is offering every moment of the games live over their various channels and through a "red button" menu on remote controls. As of Aug. 8, Branch reports, 50.2 million Brits had watched at least 15 minutes of the games. That's about 80 precent of the U.K.'s population. Close to 22 million had watched at least 15 minutes of red button coverage. The peak audience so far was nearly 27 million during the opening ceremony. (The high-water mark for U.K. ratings remains 30.5 million viewers for the Christmas Day episode of the soap opera East Enders in 1986. You know, the one where Den Watts served Angie divorce papers.) Twenty million tuned in for the men's 100-meter final on Sunday, the peak so far for competition.
Slater says the BBC is pleased with the audience response, and not just its size. The feedback, she says, has been "overwhelmingly positive." The network routinely surveys its viewers. A sporting event usually rates in the 80s on the 100-point "appreciation" scale, Slater says. During the games they have pushed into the 90s. As for foreigners and curmudgeons who might not appreciate the Team GB cheerleading, Slater is confident that the BBC has covered the games in their full breadth and depth. "We have told many, many stories," she says. "We have reflected international achievement."
If you aren't caught up in the emotion now and again, she says, you aren't doing it right. "Have you not welled up? Almost cried?" she challenges me. And I have to admit I went a little teary when the Italian men's fencing team celebrated winning bronze. In my defense, it was the first time I'd been on hand to see anybody from anywhere win an Olympic medal.
Before it's here, it's on the Bloomberg Terminal.
LEARN MORE