Free Online Classes Are Little Help in Job Hunt
By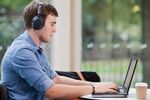 Justin Thomsen finished the first year of a philosophy master's program at the University of California at Irvine when he began to contemplate his future.
"There aren't a lot of jobs, exactly, for being a philosopher," he said.
Thomsen decided he needed computer programming skills to find employment in his technology-focused region. Instead of switching to another master's program, he turned to Udacity, a website founded by Stanford University professor Sebastian Thrun and two colleagues that allows students to take online classes for free.
Elite universities, led by Stanford, Harvard, and MIT, are embracing the Internet to bring their expertise to a wider audience. Most are offering free courses and low-cost certificate programs that don't compete with degrees from their brick-and-mortar schools. Students, facing a tough job market and saddled with debt, are asking a practical question: Can these courses help land a job?
The answer isn't the one many students want to hear. Companies including Intel and Dell say they probably wouldn't hire someone who holds an online certificate rather than a degree. "Intel focuses on candidates with traditional degrees," Gail Dundas, spokeswoman for the Santa Clara (Calif.)-based company, writes in an e-mail. A certificate could sweeten an applicant's résumé, but only for those who already hold a four-year degree, says Lisa Soto Hegner, a recruiter for Round Rock (Tex.)-based Dell.
"It definitely holds some weight," Hegner says. "How much I couldn't say, but it would give them some competitive advantage."
Apple and Facebook also prefer to hire candidates with college degrees, says Jeff Lucchesi, executive vice president for managed services at Taos Mountain, a company in San Jose, Calif., that matches short-term employees with technology companies.
Harvard and MIT formed a nonprofit partnership in May that will feature online courses taught by their faculty and will offer certificates. The universities, both based in Cambridge, Mass., have each pledged $30 million to fund the project, called edX. The University of California at Berkeley joined the initiative in July.
The courses are proving popular. MIT's pilot MITx course, a circuits and electronics class, enrolled 150,000 students worldwide—265 times the number that can fit into the school's largest lecture hall.
Stanford works with for-profit Coursera, founded by professors Andrew Ng and Daphne Koller, which came online in March. Coursera also partners with Princeton, the University of Michigan, and the University of Pennsylvania, offering dozens of classes ranging from game theory to world music.
EdX and Coursera were created to "democratize" higher education, making coursework from elite universities available to people who are unable to afford it. They weren't created with people like Karina Saeed in mind. The 27-year-old working mom from Miami is nine classes and $19,000 shy of completing an online accounting degree through Downers Grove (Ill.)-based DeVry, a for-profit educational provider, and has been looking into edX.
Saeed says she was disappointed to learn that the free online classes from Harvard and MIT won't count as credit or help her finish her degree. Still, she says she hopes a non-credit-bearing certificate from edX will give her a boost in the workplace. "The thing that caught my attention was MIT and Harvard," Saeed says. "If I do complete a course or certificate, I'll definitely attach it to my résumé."
That attitude might take educators at edX and Coursera by surprise. Many may not realize that it's the job hunt, and not a love of learning, that's motivating students who are taking the classes, says Richard Vedder, director of the Center for College Affordability and Productivity and a professor at Ohio University. "Professors are in their own little world," Vedder says. "They are thinking of truth and beauty and of the finer things in life."
Although the schools have been explicit in stating that an MITx certificate is not equivalent to an MIT course credit, not everyone sees it that way. Milena Donovan, a 48-year-old mom with a degree in project management from Ryerson University who works at Konica Minolta Business Solutions, is taking Introduction to Computer Science and Programming from MITx. She says she believes the certificate could still help her move forward in her career. "We could say we are alumni," Donovan says. "Employers don't get that granular."
One reason why free online classes won't supplant traditional degree programs anytime soon, some educators say, is that they lack the kind of one-on-one faculty attention that's a hallmark of the best four-year colleges.
"You can't provide quality education to thousands of students with one instructor," says Mark Bullen, dean of the Learning and Teaching Centre at the British Columbia Institute of Technology. "The delivery of content can be scaled, but the actual support from professors can't."
That doesn't mean edX and Coursera are not game-changing initiatives that may someday change the face of higher education, says Rob Rutenbar, head of the computer science department at the University of Illinois at Urbana-Champaign. Far from it.
"The idea of being able to take videos of classes, to put them out in the cloud, to let millions download them, to use sophisticated technology to grade them—that genie is out of the bottle," Rutenbar says. "We don't know where it's going to go, but it's not going to go away."
Join the discussion on the Bloomberg Businessweek Business School Forum, visit us on Facebook, and follow @BWbschools on Twitter.
Before it's here, it's on the Bloomberg Terminal.
LEARN MORE