Does the World Need Iran's Oil? Apparently Not
By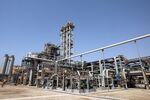 It's been about a month since the full extent of the West's oil sanctions against Iran went into effect. And so far, they seem to be working better than expected. Iran's oil exports have fallen by about 1.4 million barrels per day, which "substantially exceeds" an earlier estimate of 900,000 barrels, according to an Aug. 9 report by Goldman Sachs energy analyst David Greely.
That's a 50 percent cut in Iran's crude exports in the past year, quite a bit steeper than the gradual "20 to 30 percent" decline predicted in June by Iran's government, which gets about 80 percent of its revenue from oil. At $100 a barrel, that's roughly $100 million a day in revenue that is no longer flowing into Iran's coffers. And inflation is starting to take hold—the price of chicken has tripled since last year.
The Goldman report estimates that U.S. sanctions have cut demand for Iranian crude by about 350,000 barrels per day, and that the European Union embargo have reduced it by another 600,000 barrels per day. The extra 500,000 barrel loss comes from the fact that Iran can no longer get ships from other countries to carry its oil. The EU sanctions ban European insurance companies from covering ships carrying Iranian oil—a big problem for Iran considering EU companies control at least 90 percent of the oil tanker insurance market, according to the Goldman report. If you were feeling dodgy about carrying Iranian oil before, you're certainly not going to do so without insurance.
India recently approved a government-backed insurance program to cover tankers carrying Iranian crude, but it's not likely to come anywhere close to providing the $1 billion of coverage typically needed to insure a full tanker. And so Iran's ability to export its oil now rests almost entirely with its own fleet of ships, which it apparently has been trying to disguise.
You'd think that losing half the oil from a top OPEC producer like Iran would roil the oil markets. But so far, the world doesn't seem to be missing Iran's oil. That's mostly because we're swimming in crude as it is. Saudi Arabia is overproducing. Iraq just passed Iran as OPEC's second-largest oil producer. Libya is back. And production in the U.S. is rising faster than anyone thought. According to Timothy Evans, energy futures strategist at Citigroup, U.S. oil production is up 14.2 percent over the last 12 months. Not that we export any of that oil. But gains in domestic production have lessened our need for OPEC oil, meaning it's free to find other markets such as China and India.
Oh, and then there's the whole issue of a slowing global economy. On Friday the International Energy Agency cut way back on its forecast for global oil demand for 2013. "There's no one who can convince me that the oil market has tightened," says Fadel Gheit, the longtime oil and gas analyst at Oppenheimer.
And yet, for the last six weeks, the price of oil has performed as though the market has tightened, rising 20 percent since the third week of June. Since then the supply-demand fundamentals of the oil industry haven't changed that much. If anything, the world has gotten more oversupplied since then. Just look at the most recent numbers from the IEA and the U.S. Department of Energy. Both point to slow demand growth of about 1 percent through 2013; supplies have increased about 2.2 percent year over year.
Some of the price increase is over maintenance being done in the North Sea oil fields. Part of it was also the fear that Iranian sanctions would bite world supply more than they did. And part of it is plain-vanilla oil speculators piling back into futures contracts after running for the hills a few months ago.
Before it's here, it's on the Bloomberg Terminal.
LEARN MORE