Arctic Dispatch: Stranded in a Hurricane
Collin West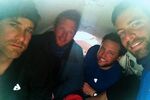 Editor's Note: Collin West is part of a team, including MBA graduates from Northwestern's Kellogg School of Management and Wharton, attempting to cross the Arctic Ocean in a rowboat to raise awareness of global warming. He is blogging about his experience on the Arctic Row team for Bloomberg Businessweek.
Ever heard of an Arcticane? Me neither. For the last eight days the Arctic Row team has been hunkered down fighting a fierce storm. An Arctic hurricane is a rare event in extreme weather—even for the Arctic Ocean—with waves, wind, and ice well past anyone's comfort zone. Imagine four 6-foot-two-plus, 220-pound-plus men crammed into the tiny cabin of a 29-foot rowboat as it bounces around in a megastorm. … Not a good feeling.
When tough times like last week come along, a strong support system can mean the difference between winning and losing. Luckily our friends, family, and fans kept our spirits high with hundreds of encouraging e-mails, tweets, Facebook shout-outs, and blog comments. For me, I rely most heavily on my wife, the true competitor (and winner) in the family.
I was really feeling down earlier this week because of the storm and ensuing delay, cabin fever, and bedsore-type bruises accrued from lack of space to move and shift around in the bouncing cabin. My wife gave a pump-up speech that would rival the "Life Is a Game of Inches" speech given by Al Pacino in the movie Any Given Sunday. Next, I always rely on close friends and family who know me best to jump in and motivate me—as well as keep me accountable to my goals. And after this week, I sincerely thank you all. Each of you is doing the rowing. Not me. Seriously.
As a form of advice, I suggest everyone do some accounting on their personal support system, especially this business-focused reader base. It is all too easy to skip birthdays, dinners, and dates to stay late at work or pursue that next promotion. Ten years later you may look around and see no one at your side. It takes paying into the system by supporting others; building true, thoughtful friendships; and genuinely caring to have a strong support network. And when reaching for big goals, that support system can push you to perform better. At the very least, a cheering section feels great.
Recommended reading on this subject: How Will You Measure Your Life?, the book by renowned Harvard Business School professor Clayton Christensen. This is an important book for any post-MBA to read. It'll help you keep your life balanced between career and family, and it will help you stay out of jail, too. (Clayton graduated from Harvard with Enron's Jeff Skilling, among others who lost their way.)
You know, when we set our sights on being the first to row across the Arctic Ocean and make a film along the way, we had an inside joke. Our goal was to make the most boring film possible, because that would mean the expedition went exactly as planned and nothing dangerous or wild happened—well, to state it positively, it looks like the film will be worth a watch. Let's all just pray the second half is a total letdown.
Before it's here, it's on the Bloomberg Terminal.
LEARN MORE