Troubled Cleantech Companies Find Salvation in China
by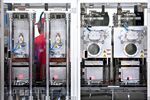 Troubled electric-car battery maker A123 Systems, which used a $249 million grant from the U.S. government to build a Michigan factory, is getting rescued by China's largest auto parts maker in a proposed deal that would give Wanxiang Group an 80 percent stake. It's only the latest in a series of distressed U.S. cleantech companies snapped up by Chinese investors, and it's unlikely to be the last.
Demand for electric cars in the U.S. hasn't lived up to the hype that surrounded the industry three or four years ago, says Kevin See, a senior analyst who tracks the electric vehicle industry at Lux Research in Boston. That has meant trouble for companies like A123. "We've seen them really start to fall, one by one," See says. "The real common link there is that it's the Chinese companies taking advantage of this." (A123′s federal grants can be used only to support U.S. manufacturing, the White House told Bloomberg News.)
The script is familiar. Boston-Power, which wanted to make its lithium-ion batteries in the U.S., couldn't. It moved manufacturing to China instead, after raising $125 million from venture capitalists there. Ener1, another battery maker that got federal grants, went bankrupt earlier this year, but not before forming a joint venture with Wanxiang Group.
Chinese battery makers' technology has lagged behind competitors in Japan and South Korea such as Sanyo and Samsung, See says. Picking up technology from struggling companies in the U.S. can help Chinese companies compete. A123 "does have an interesting and valuable technology," he says. "It didn't have enough customers."
The company should find them in China, now the world's largest auto market. The Chinese government is pushing electric vehicles for good reason: China has very little domestic oil, so every new gasoline engine on the road makes the country more dependent on foreign energy. That strategic imperative is why moving Boston-Power's operations to China made sense, according to Richard Lim, managing director of GSR Ventures, the China-based venture capital fund that invested in the company. "We transferred the technology—which did not have a market in the U.S.—to China, where it had a market," he told me in an interview in May.
GSR recently invested in an additional electric car technology company, Protean Electric, with plans to open its first factory in China next year. And Boston-Power just inked a deal to sell its batteries to Beijing Electric Vehicle. When it comes to demand for electric cars, the hype is real. It's just in China.
Before it's here, it's on the Bloomberg Terminal.
LEARN MORE