Rupert Murdoch Moves On, Misses News Corp.'s Earnings Call
By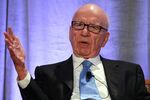 Rupert Murdoch doesn't like to hang out with losers. If that wasn't obvious in June, when the News Corp. chief said he'd split his empire and stick to running his robust entertainment arm, it became clear in the Aug. 8 earnings call. The media titan didn't even show up to explain the company's bad news—its $1.6 billion loss, the $8.4 billion in revenue that fell short of expectations, the $2.8 billion writedown, and $57 million in legal costs. Why should he? After all, the main culprit was publishing, the business that has brought such misery into his home this year. That's where he has had to deal with such headaches as legal costs, reputation hits, police probes, bribery allegations, and hacking scandals, not to mention a tough ad environment.
Murdoch, 81, has since moved on to more pleasant climes. This time next year, he may expect to be talking about such winners as the Fox News cable network and Twentieth Century Fox film studio. Maybe that will help everyone forget that, at this time last year, he had just shut down The News of the World amid revelations that its reporters had hacked into the voice mail of a murdered teenager—giving her family false hope that she was still alive. Maybe U.K. politicians will have forgotten their May report that concluded he was "not a fit person" to lead an major international company. They'll focus on the good things that News Corp. has to offer.
For now, they can turn to his son James, who made a surprise appearance on the Wednesday earnings call. Never mind that the younger Murdoch, 39, is very much associated with the scandal that has dampened the mood of his dad. He was executive chairman of News International, which owned the now-defunct tabloid. He resigned as the scandal heated up. Since then, he too has moved on, relocating to New York to focus on international TV work as deputy chief operating officer. In that capacity, he told investors on Aug. 8 that the competitive position of Italian satellite TV service Sky Italia "has never been better."  Overall, "we really like where we stand," he said, "and we're particularly excited as we move forward with our planned separation."
And what about those billions eviscerated on the publishing side? Well, that was really something Chief Operating Officer Chase Carey and Chief Financial Officer David DeVoe were better suited to address. Like his father, James Murdoch has put all that behind him.
If only people outside News Corp. could do the same. Fellow moguls certainly made the Murdoch men feel welcome last month when they arrived at Allen & Co.'s annual media and technology conference in Sun Valley, Idaho. London Mayor Boris Johnson hosted Rupert Murdoch at an Olympic swimming event. British culture secretary Jeremy Hunt shared a chuckle with him outside the stadium. By the time shareholders learned of News Corp.'s $1.6 billion loss a few days later, Rupert Murdoch was busy doing something else. In fact, his last message on Twitter was Aug. 5, when he called on Mitt Romney and Barack Obama to get specific in their plans: "Courage and honesty needed." Indeed.
Yet some don't seem to get that the media mogul has moved on. On Aug. 7, the Church of England sold its entire £1.9 million stake, explaining on its website that the Church's ethical investment body "does not feel that the company has brought about sufficient change." Scotland Yard arrested a journalist at The Sun, another Murdoch-owned tabloid, and a police officer. That brings the tally to 70 arrests so far from its probes of payoffs, phone-hacking, obstruction of justice, and other alleged crimes that may include illegal access to medical records. Those are activities so foreign to the ears of most chief executives that similar examples are inevitably tough to recall. For News Corp.'s shareholders, employees, and the hundreds of people so far identified as probable targets of such activities, it's the sort of thing they'll never forget.
Before it's here, it's on the Bloomberg Terminal.
LEARN MORE