MBA Job Hunt: The Plan
Francesca Di Meglio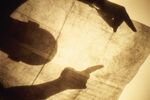 This is the first in a series of stories that serves as a guide to the MBA job hunt. For the next several weeks, Bloomberg Businessweek will feature content that will cover creating a job search plan, narrowing your focus, writing your résumé, flexing your interview muscles, building a network, and negotiating salary and benefits.
Business schools do a good job of introducing MBA students to a wealth of career opportunities in a variety of industries and functions. Some might say they do too good a job. As a result of the plethora of options at the buffet, aspiring MBAs often have no idea where to stick their forks first. Still, at the very start of an MBA program, students must devise a job search plan, which means narrowing their focus to land an internship and then a full-time post. After all, no one will survive staying at the buffet indefinitely.
One aspect on which all the MBA career experts agree is that this narrowing of focus and painstaking planning requires some serious self-reflection and due diligence. While MBA students can begin this process at the school's prompting, usually during orientation or just before, they should begin thinking about jobs much earlier. Many people have at least a vague idea of what they would like to do based on what they learned about themselves—and shared with the schools—during the application process. Now, they must expand on that initial self-discovery.
Answering certain questions can get the ball rolling. "On a rainy January Monday, what will you want to be bounding out of bed to do?" asks Maryellen Reilly Lamb, director of MBA Career Management at the University of Pennsylvania's Wharton School. At the MIT Sloan School of Management, students are encouraged to consider their skills, interests, and the contributions they could make to an employer, says Ron Peracchio, senior director of the school's Career Development Office.
While business schools want students to consider all their options, they warn that taking too long to choose can mean failure. "People who use the MBA to find themselves are at a disadvantage," says Michael Malone, managing director of the Career Management Center at Northwestern University's Kellogg School of Management. There is lots of competition for MBA jobs, so a late start could mean losing out to someone else. And recruiters will see through students with a lack of focus.
That's why once students arrive on campus—sometimes even beforehand—the school provides them with self-assessment tests, such as Career Leader. Some mistake these tests for the personality profiles that anyone can take online for free. Instead, the schools pay for these kinds of assessments, which feature rigorous questions designed to help people better understand what kinds of jobs suit them.
After narrowing down their search, students can begin to study the different industries and functions they are considering. They should determine what kind of work would be required on a daily basis in each role and whether they would be a good fit. Taking to the Internet to get detailed job descriptions and talking to career services counselors at school are obvious places to start. Many business schools also offer career panels to discuss various job opportunities and the chance to connect with alumni in a given area. Finally, students should request informational interviews with people in the roles that interest them, says Lamb, who adds that this will benefit them as they build their network, too.
Remember, people can narrow down their focus too much. In today's economy, job hunters, even MBAs from top programs, need plans A, B, and C. Dartmouth College's Tuck School of Business has students break down their focus into three buckets. For example, someone interested in marketing might seek positions in consumer goods, small brand companies, and a related industry, such as retail. The point is to open up additional doors to make success more likely. When students finally have narrowed down their industry and functions, they can begin pinpointing potential internships and jobs. Then, the fun begins.
Join the discussion on the Bloomberg Businessweek Business School Forum, visit us on Facebook, and follow @BWbschools on Twitter.