MBA Alumni in the News: Aug. 9
Louis Lavelle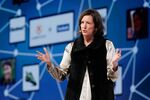 Each week, Bloomberg Businessweek brings you an update on how MBA alumni from top business schools are making news—the good, the bad, and the ugly. This week, graduates from NYU, Stanford, and the University of Michigan were among those making headlines:
When the Going Gets Tough: Hedge fund manager Louis Moore Bacon, an MBA graduate of Columbia Business School, announced plans to give back $2 billion, or 25 percent of his main fund, saying "opportunities have become more constrained." The Moore Global Investments fund has gained more than 18 percent a year since its inception in 1989, but it returned a "tolerable" 6 percent in the past year and a "disappointing" 0.35 percent in the first half of 2012.
Comings and Goings: Katie Mitic and Ethan Beard left Facebook to pursue other opportunities, bringing the number of high-profile management departures at the social networking site to three. Mitic, a Harvard Business School graduate, will be working for a mobile startup. Beard, an MBA graduate of New York University's Stern School of Business, is starting his own venture. Michael and Yoel Zaoui, MBA grads from Harvard and the Stanford Graduate School of Business, respectively, are starting a new firm. The two are former M&A bankers at Morgan Stanley and Goldman Sachs, respectively.
Hail to the Chief: Qualcomm tapped a former Intel executive, Anand Chandrasekher, for its new marketing chief. Chandrasekher, who spent 25 years at Intel, got his MBA from Cornell's Johnson Graduate School of Management. JPMorgan Chase named Eileen Serra, an MBA alum from the University of Chicago's Booth School of Business, CEO of Chase Card Services.
Shake, Rattle, and Roll: BlackRock CEO Laurence Fink, an MBA graduate of UCLA's Anderson School of Management, added eight executives to the firm's global executive committee in the most sweeping shakeup since it became the world's largest asset manager. Citing "market decay," Fiat Chief Executive Sergio Marchionne, a 1980 MBA graduate of the University of Windsor, vowed to close a second Italian factory, after shuttering one last year, unless he finds a way to export cars to the U.S. Visteon CEO Don Stebbins said the auto parts maker is seeking acquisitions to boost its market share. Stebbins received his MBA from Michigan's Ross School of Business.
Making a Splash: U.S. Olympic water polo player and 2011 Stanford MBA graduate Peter Hudnut will be joining the Goldman Sachs private wealth division when the London games end on Aug. 12. Hudnut said his interest in finance grew out of internships he worked after a back injury, fractured vertebrae, and shoulder problems sidelined him before the 2004 games in Athens.
Care Package: Sheila Lirio Marcelo, a Harvard MBA and chief executive of Care.com, raised $50 million in a fifth round of financing, bringing total funding for the company to $111 million. Marcelo said the funds will be used for international expansion and potential acquisitions. The Waltham (Mass.)-based company helps consumers find local care providers for children, seniors, and pets.
Join the discussion on the Bloomberg Businessweek Business School Forum, visit us on Facebook, and follow @BWbschools on Twitter.
Before it's here, it's on the Bloomberg Terminal.
LEARN MORE