What Would a Music Label Pay to Sign Pussy Riot?
by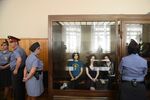 During her live concert in Moscow last night, Madonna stopped singing, slipped on a balaclava, and launched into a lecture in which she expressed her disapproval of the incarceration and ongoing trial of a local punk group called Pussy Riot. Madonna joined such high-profile artists as Red Hot Chili Peppers and Sting in support of the outfit, whose staunchly anti-Putin members face charges of "hooliganism" and inciting "religious hatred" after an impromptu protest performance at a cathedral in February. Detained throughout a trial this summer, Pussy Riot now await their verdict, expected to be handed down next Friday. The prosecutor is calling for a three-year sentence.
If they are convicted and imprisoned, their music will live on, right? Well, sort of. Pussy Riot formed last year, so there's no extensive catalog to market. Plus, their lyrics are in Russian, which limits their international audience. After a thorough Web search this reporter found only a smattering of Youtube videos that purport to contain some of Pussy Riot's songs. It's prototypically raw, hard-charging punk music, and user responses vary. (According to one commenter, "Political messages aside, this song kinda sucks.") Regardless, to engage in a hypothetical: What is this band—with such worldwide exposure—worth to a major record label, if they're acquitted?
"Just the sheer fame and visibility and notoriety doesn't guarantee that there will be an audience for a record," says Danny Goldberg, a music industry veteran who has been a music critic, Kurt Cobain's manager, president of Atlantic Records, and chairman of Warner Brothers Records. "In general, for punk music as a genre, the live performance business is a bigger source of money than records. You can imagine [Pussy Riot] being booked for $10,000 a night for a world tour—you know, the 'Free Speech Tour' or something, and do 75 to 100 shows around the world."
According to Goldberg, who still manages such artists as Steve Earle, Tom Morello, and Rhett Miller, recordings would actually be the smallest piece of the pie. The band's greatest economic value would be found in "a book, merch[andise], and posters." At major labels, the bulk of financial investment is focused on pop music acts. So what, bearing all this in mind, would newly released Pussy Riot be realistically signed for?
Says Goldberg: "$50,000 to $100,000. Record budgets are tremendously depressed, except for pop music. When the Sex Pistols were happening, you still had a global music business that was still happening. You didn't have the Internet. They were worth hundreds of thousands of dollars or maybe even a million at the peak of their celebrity. They were pretty famous for being controversial. That was a completely different era. Pre-digital. Punk was newer and more popular."
So let's say Pussy Riot forges ahead with a debut record. The band would have to work with a producer, right? "It would depend on what kind of record they want to make, and it's hard when you can't access any of their music," Goldberg says, "but I would look for a woman producer, because I think there's a feminist quality to their support. Somebody like Kathleen Hanna [former lead singer of Bikini Kill and Le Tigre]."
And now that their trademark balaclavas have been removed and the world has seen their faces, would Pussy Riot be encouraged to undergo an image makeover, for mass appeal? "No," says Goldberg. "It's a contradiction of the punk aesthetic to have show-business imaging. If it was a pop act, that's when labels get involved with imaging. That's not what people look for when they look for a punk artist. They look for personal authenticity."
Before it's here, it's on the Bloomberg Terminal.
LEARN MORE