business
The Van Indicator Signals Recovery on Main Street
By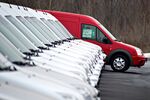 How can we tell how small businesses are feeling? Find out how many vans they're buying.
Van sales were up 32 percent in July over last year, a greater increase than nearly every other vehicle type (exception: sports cars), according to data from Bloomberg Industries. "Van sales offer an insight into corporate economic sentiment, given their high penetration into small businesses and commercial fleets," writes analyst Kevin Tynan. He estimates that well over 90 percent of vans are purchased by businesses.
From housing contractors to beer distributors, much of America's small business commerce travels by van. Nearly 26,000 vans were sold in the U.S. last month. That's 6,000 more than were sold a year ago. Total van sales this year are up 17 percent from the same period in 2011 and 39 percent from two years ago. Go back to July 2009, the first month of the official recovery after the recession, and you'll find that fewer than 11,000 vans were sold that month.
The trend in van sales broadly tracks small business optimism as measured by the National Federation of Independent Business: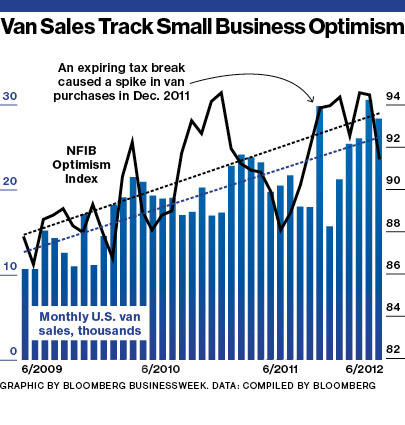 Some of this is likely pent-up demand. Just as consumers who have put off buying new cars for years are replacing their clunkers, some businesses may no longer be able to delay buying a new vehicle. It's also easier for small businesses to borrow than it was a year ago, so access to financing may account for part of the sales increase.
The van indicator is consistent with other measures of business sentiment, says Chad Moutray, chief economist at the National Association of Manufacturers. "You are seeing, certainly relative to last year, increased confidence in the economy," he says. While Moutray doesn't watch van sales specifically, he says he's not shocked that they correlate with business confidence. "You are seeing rising interest among businesses to look toward the future." Looks like the recovery on Main Street may at last have legs. Or at least, wheels.
(
Corrects dates in X-axis of chart
)
Before it's here, it's on the Bloomberg Terminal.
LEARN MORE