The Obama Lotteries Move From Hollywood to Hoops
By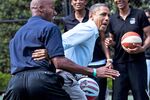 Finally, an Obama lottery for guys like you. The latest pitch in what's become an ongoing comedy routine/fundraising strategy for the Obama campaign: a lucky draw to shoot hoops with Carmelo Anthony, Patrick Ewing, Sheryl Swoopes, Kyrie Irving, and Alonzo Mourning. "Oh, and you'll get to meet President Obama and Michael Jordan over dinner, too," wrote Marlon Marshall, deputy national field director of Obama for America in an Aug. 7 e-mail.
Why give Melo bigger billing than the president? Obama's campaign team knows all too well that when your star power has faded a bit, there's nothing like hanging with celebrity friends. The president's dinner with George Clooney in May raised $15 million, mostly from people who weren't there. That's because, along with charging $40,000 a ticket, organizers staged a lottery that drew tens of thousands of people who contributed $3 or more for a chance to go. (Two won, including Florida resident Karen Blutcher, who told the St. Augustine Record that she met Clooney, Rob Reiner, Billy Crystal, Robert Downey Jr., Tobey Maguire, Salma Hayek, and Barbra Streisand, along with President Obama.)
While kitschy lotteries helped Team Obama raise a record-breaking $745 million in the 2008 campaign, they're not doing enough to move the needle this time around. Back then, it was enough to simply offer a burger and beer with the Democratic candidate. Not this time. Even with his rival's haul from dining with Clooney, Mitt Romney's campaign raised more funds than Obama in May and June. Last month the Romney campaign raised more than $101 million along with the Republican National Committee, while Obama and the Democratic National Committee ended July with $75 million in hand. As of June 30, the Obama campaign had raised about 39 percent of its money from donors giving $200 or less vs. 15 percent for Romney's funds, according to the Campaign Finance Institute.
With that kind of pressure, no wonder the president is relying more on star power to boost his coffers. On Aug. 6 he spent an evening with Harvey Weinstein, along with actress Anne Hathaway, talk show host Jerry Springer, and a few dozen other donors who'd paid $35,800 apiece.
While Weinstein's party didn't reserve a seat for some raffle winner, average folks were able to enter a draw to spend an evening with the Obamas at the Manhattan home of actress Sarah Jessica Parker and actor Matthew Broderick. "As a woman, a mother, and an entrepreneur, I need to believe our country can be a place where everyone has a fair shot at success," Parker wrote in her e-mail to Obama supporters. If not, she noted, Americans might be "forced to go back to policies that ask people like my middle-class family in Ohio to carry the burden—while people like me, who don't need tax breaks, get extra help."
To be sure, spending an evening with the woman who made Magnolia cupcakes and Manolo Blahniks famous isn't every Democrat's idea of fun. Time to bring in the Dream Team! As Marshall writes in his e-mail (every pitch actually comes from the anonymous "info@barackobama.com" account): "This is the kind of stuff your kids will tell their kids, and no one will believe it until you show them a photo." And if suiting up with hoops stars isn't your thing? Marshall suggests you bring "a kid or a friend who would love nothing more than to play with their heroes while you cheer them on from a courtside seat."
And why isn't the Romney campaign having a good chuckle at the air of desperation that accompanies some of these $3-a-pop pitches? One reason may be that the Republican candidate is now doing the same thing. Perhaps inspired by the millions raised by Obama in Hollywood, Romney campaign manager Matt Rhoades sent an e-mail in mid-July that offered what he considered to be an irresistible offer. "Every week until the Vice Presidential announcement is made," Rhoades wrote, "one lucky supporter will win the chance to meet Mitt and his choice for Vice President." In his view, "this is a once-in-a-lifetime opportunity."
Try telling that to Marshall, who claims to be "so jealous" at the thought of shooting hoops with Obama and his NBA gang that he could barely write the e-mail outlining the raffle. Forget politics, man. We're talking Michael Jordan and Patrick Ewing. And if that doesn't get people reaching for their wallets, there will no doubt be other big names to raffle off before November.
Before it's here, it's on the Bloomberg Terminal.
LEARN MORE