Root for the Minnesota Vikings
By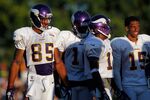 I'm not trying to price myself out of a job, but in the last 10-12 years we in the investment world have become so macro dominated we've forgotten that really fundamentals define stocks. We live by one very simple premise that stocks lead earnings, which lead the economy." — Brian Belski, BMO Group
— Mamta Badkar, "Top Wall Street Strategist: We're on the Verge of the Next Great Bull Market," Business Insider, 7 Aug 2012
David Rosenberg, of Toronto, and Brian Belski, of Montreal, agree on one thing and one thing only. The Minnesota Vikings suggest more than "absolutely zero national expectations" as they prepare to hit the gridiron this autumn.
And that is where the agreement ends. (They are close friends after years at the Death Star, formally known as Merrill Lynch, Pierce, Fenner & Smith and Bob Farrell, Inc.)
The distinction to tattoo to your portfolio is Mr. Rosenberg cares about the economy and its linkage to equity performance.
Mr. Belski does not.
Choose your method and medicine, carefully. And perhaps, like stocks so very, very far out of favor, root for the Minnesota Vikings. Discuss.
Before it's here, it's on the Bloomberg Terminal.
LEARN MORE