Gabby, Serena, and the Perils of Sports Pioneers
By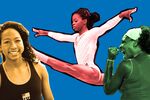 Let's face it: Gabrielle Douglas has an unusual head of hair for gymnastics. When the Olympic gymnast was flipping and spinning her way to a gold medal, her thick straightened hair began to fall out of its sleek ponytail. Some viewers at home became upset: It looked unkempt, a bit uneven, not done in a style that represents "true" African American hair. In fact, the fierce Twitter debate over the young gymnast's hair has become one of the more memorable legacies of the London Games. The politics of dealing with curly hair in competition hasn't been much of an issue in a sport where African American athletes are rarely seen at the elite level.
Coming out of the Olympics, the question is whether Gabby Douglas will become a catalyst in diversifying elite gymnastics, or will remain a outlier whose hair and talents are viewed as unique. It could go either way.
For all his success in the PGA, Tiger Woods hasn't transformed the face of golf. In fact, numerous sports commentators point out that fewer black golfers are actually on the circuit now than when Woods was born in 1975. Why? Golf remains an expensive, time-consuming, and inconvenient sport—not to mention one that's still marketed to wealthy white businessmen. The result is that affluence still drives success in that sport, for the same reason top equestrians are often related to the queen.
Gymnastics could be different. The sport is a staple at YMCA clubs around the country. Athletes can live in a city or a suburb, train in small spaces or large. Wendy Hilliard, the first African American to represent the U.S. in rhythmic gymnastics in 1978, has brought gymnastics to thousands of inner-city kids since 1996. (Some, like rhythmic gymnast Alexis Page, now compete at the international level.) Douglas's teammate Kyla Ross boasts a mix of African American, Japanese, Filipina, and Puerto Rican. If Team USA wants to popularize the sport and increase the likelihood of future gold medals, it would do well to capitalize on the success of these young women by making a big push to promote and support gymnastics as a diverse urban sport. (The success of John Orozco and Danell Leyva is an asset for men's gymnastics, too.)
Witness the success of USA Swimming's efforts. The sport's top body saw that access to free public pools wasn't propelling minorities into elite competitions. So it did a survey with the University of Memphis that discovered about 70 percent of African American children felt they had little or no ability to swim; for Hispanic kids, the figure was 58 percent, while 42 percent of white kids said they couldn't swim. That helps explain why black children are three times as likely to die by drowning in the U.S. as their white peers, according to the Centers for Disease Control & Prevention. Parents who can't swim aren't inclined to take their kids swimming.
Instead of lamenting that fact, USA Swimming tapped Olympian Cullen Jones and launched a nationwide "Make a Splash" program. It hosts an annual camp for promising athletes from underrepresented groups. It has expanded multicultural marketing and helped support more swim teams in minority communities. That helped the U.S. assemble the most diverse set of Olympic swimmers in its history this year. Brooklyn teen Lia Neal never had to leave the city as she trained her way to becoming a bronze medalist and one of three black swimmers on the U.S. team.
Three, it turns out, is a magic number. Several research studies have found that companies don't truly benefit from gender diversity on boards until at least three of the directors are women. At that point, nobody owns the "woman's point of view." No single director stands out or gets different treatment because of gender. In short, having women at the table becomes normal.
Moving past the trailblazer stage to a state of normal is never easy. It usually means overhauling traditions and biases and practices that reinforce the status quo. When a new face enters the game, they have to adapt to tradition. When a lot of new faces come in, the traditions themselves have to change. If Serena Williams and her sister Venus weren't still anomalies in the world of tennis, would anyone really care about the little dance Serena did Aug. 4 after beating Maria Sharapova to win the gold medal? Would her "crip walk" dance be seen as a testament to gang violence—a move that's possibly fine for an NBA arena, according to Fox Sports columnist Jason Whitlock, but not suited to the "sports church" that is Wimbledon? Or would it just be another way of celebrating a huge win?
Gabby Douglas has firmly established her place in Olympic history as the first African American gymnast to win an all-around gold. Like the rise of Tiger Woods, her inspiring story and winning personality are already leading to lucrative endorsement deals. But the real victory will be if her performance inspires the kind of change that leads to a lot of curly hair in the next Olympics. The hurdles are still there.
Douglas owes much of her success to the fact that she moved 1,200 miles away from her family to live in Iowa, where she trained with a Chinese coach and lived with a white host family. Among other things, her mother recently told Fashionista that family doesn't "know anything about taking care of her hair."
Before it's here, it's on the Bloomberg Terminal.
LEARN MORE