ForumWatch: MBA Application 'Extras'
Francesca Di Meglio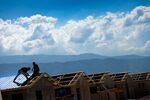 Many pieces come together to form the MBA application. One of them is a rundown of the applicant's extracurricular activities. A perennial question that occupies participants on the Bloomberg Businessweek Business School Forums is which extracurricular activities are more appealing to admissions committees.
Gcgrossm, who reports working in private banking and will be finishing an analyst program next year, recently asked if schools would appreciate seeing a six-month volunteer program in microfinance abroad. The sole reply gcgrossm has received so far was a qualified yes: Extracurricular activities will help only if you're passionate about them and can communicate that passion in the interview; if your goal is to pad your résumé, you're out of luck. What do you think? Share your opinion at the "Microfinance" discussion thread.
Editor's Note: This blog post is part of a series about discussions taking place on the Bloomberg Businessweek Business School Forums, where prospective MBA program applicants, current students, and recent alumni trade admissions tips, job-hunting advice, and the occasional barbed comment. We invite you to join these discussions or start one of your own.
Before it's here, it's on the Bloomberg Terminal.
LEARN MORE