At London's 2012 Olympics, Talking Rio 2016
Let the 2016 networking begin
By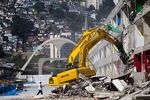 The countdown clock at the entrance to Somerset House read 1,459 days, 7 hours, 44 minutes, and 12 seconds until the opening of the 2016 Summer Olympics in Rio de Janeiro when I paid a visit on Tuesday afternoon. The massive, six-floor, neoclassical quadrangle north of the Houses of Parliament on the River Thames is serving as Casa Brasil, the country's home away from home during the London Games. In a parlor on the second floor appointed with pastel throw pillows and prints and a potted palm tree, I met with Marcelo Haddad, director of Rio Negócios, a wing of the mayor's office dedicated to drumming up investment in the city ahead of the 2014 World Cup and 2016 Olympics.
Haddad and five others from Rio Negócios have been in nonstop booster mode since the London opening ceremony. "I've been here for almost 10 days and I haven't even been in the stadium," he says. Their goal is to meet one-on-one with 500 different businesses over the course of the games, mostly at cocktail receptions and conferences at Casa Brasil. Haddad's pitch is simple. "Rio is using the games and the energy boom in Brazil to set up as a business destination," he says. "After almost three decades of decay, it's a kind of renaissance of the city." For Rio, he says, the games have served as a spur to reforms in security and education and to building new infrastructure—more highways, a rapid transit bus, a doubling of hotel rooms, and a renovated port. If all goes to plan, they will also serve as a showcase for the rebuilt city. When asked about some of Rio's hiccups in its preparations, Haddad says the city is ahead of where London was at this same point.
Mayor Eduardo Paes restarted the dormant Rio Negócios, a partnership funded by City Hall and local businesses, after visiting London two years ago. Since then, says Haddad, the office has attracted 33 projects, mostly in the tech sector, with a combined budget of $8.6 billion over the next five years. His proudest catch so far is a 400-employee research center in the works from General Electric, the company's fifth in the world. Haddad says Rio was originally at the bottom of GE's list of locations in Brazil. "They said to me, 'Marcello, being very candid, Rio was not in our plans. Our plan was to go to São Paulo.'" The trick, he says, was overcoming Rio's reputation as a party destination. "It's the same as if you said you were going to the Bahamas to do business," he says. "We have to reset."
Across the Thames and a couple of miles east, Richard Evans of Ernst & Young is also preparing for Rio 2016. Two years ago, he sold his house in Manchester and moved to Brazil to head the sports and Olympic office there. He's back in London to network for the fortnight. Last September the firm announced that it would be a sponsor and official professional-services provider for the 2016 Games. In the deal, Ernst & Young gives the Rio 2016 organizing committee money—Evans would only say that it's a "significant value"—and man-hours. "An organizing committee is like a startup," Evans says of the services the firm intends to provide. "They're going from almost zero people to 4,000 people and then they have to disassemble themselves. To grow that quickly, they need injections of specialist knowledge."
In return for its money and time, Ernst & Young gets to tout its association with the games, but only within the borders of Brazil. At the London Games, where rival Deloitte is the official professional-services provider, Ernst & Young has to limit its Olympic talk to the Casa Brasil and inside its own offices. "We're doing this interview inside an EY office," he says from the ninth-floor conference room overlooking St. Paul's Cathedral. "I wouldn't want to do any talking about EY outside of here."
For Coca-Cola, McDonald's, or Adidas, the logic of an Olympic sponsorship is fairly clear: It presents the opportunity to associate with a (mostly) beloved athletic spectacle watched by hundreds of millions of consumers. When your customers are other businesses, however, the game is different. At Ernst & Young, says Evans, they are already seeing an impact as they recruit at college campuses and hope to see the games boost retention rates in a business know for high employee turnover. The premise is simply that people like the Olympics and want to work with, for, and around them. "We don't think we're going to get any tickets at the end of this," says Evans. "That's not why we're working on these projects."
And for clients and prospective clients, the sponsorship, he says, provides an instant link to the burgeoning Brazilian market. "It's just a simple connection," says Evans. "The British clients that we have at the moment don't know the Brazilian market. They've heard that it's growing very fast and they want to understand it better." And as they decide where to call to learn more, he says, the Rio 2016 association puts Ernst & Young "top of mind." And every now and again, there is the chance to brush shoulders with athletes or celebrities, like the time Prince Harry came to Rio to help introduce rugby for the 2016 Games.
Before it's here, it's on the Bloomberg Terminal.
LEARN MORE