A Brooklyn Restaurant Literally Goes Whole Hog
Teddy Wayne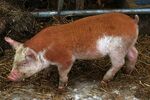 Husband-and-wife restaurateurs Paris Smeraldo and Meg Lipke, owners of Northeast Kingdom in the up-and-coming Bushwick neighborhood of Brooklyn, are bringing new meaning to the terms farm-to-table and nose-tail. The restaurant is shifting to buying whole animals for Chef Kevin Adey to butcher himself, and it will then use every single part in a changing daily menu. Compared with the convention of buying meat piecemeal, they expect their profit margin to increase about 20 percent.
It's not just about revenue, though, explains Smeraldo. "We could make more money doing it a different way," he says. "It's a much larger commitment. This is what good food's about—greater connection to understanding where our food comes from and having relationships with farmers." And, as you might expect in these corners of Brooklyn, it's not just for meat: Smeraldo and Lipke forage for their own micro-vegetables when they're in season around their second home in Hudson, N.Y.
On Friday, Aug. 10, Northeast Kingdom is promoting its whole-animal approach with a lavish banquet for 80 guests: a 23-course, $130-a-plate feast (with wine pairings) made from a single 220-pound pig named King Arthur. They are buying Arthur from Martin Gitt, who runs Triform Camphill, a biodynamic farm in Hudson, and Smeraldo and Adey will be present when the pig is slaughtered at Larry's Custom Meats in Hartwick, N.Y. (Smeraldo notes that at many of the larger slaughterhouses, "you give them your animal, but what you get back may not be your animal.")
How much does all this effort—including transporting Arthur down to Brooklyn—really save them? A 300-pound pig goes for around $1,400, though chefs usually buy them in halves (split down the middle) for easier handling. A pig comprises five primal cuts per half: the loin, belly, ham, shoulder butt, and picnic shoulder. Chef Adey, therefore, gets an entire pig for about $4.50 per pound.
As you will see from the breakdown below, in some cases, such as the loin, this is a better price than buying meat piecemeal, and for some parts, like the belly, it's actually more expensive. He promises, however, that the quality of a whole animal from a small, trusted farm far surpasses that of heritage breeds. In addition, Adey receives a number of "freebies"—the head, liver, skin, fatback, lard, and, of course, delicious blood—that one would probably not purchase individually and of which he makes full use; these ancillary benefits pay for the cost of the pig alone. And he'll even fashion the bristles into paintbrushes for some artist friends.
NORTHEAST KINGDOM price: $4.50 per pound everywhere for top-quality pig
Prices listed per pound for a high-quality heritage-breed pig
Loin [middle of shoulder blade to middle of back is loin, from middle of back to hipbone is sirloin]
bone-in pork loin $10-12
loin ribs $5
boneless loin $8
pork chop $10-12
tenderloin $11
ON THE MENU: "seared tenderloin with mustard streusel with potato puree and roasted broccoli at $23"
• belly
cured pancetta $15
bacon $3.50
spare ribs $3.30
ON THE MENU: "spare ribs with soy-ginger sauce appetizer $18"
• ham (back leg)
cured ham $70 (Northeast Kingdom will cure its own ham for at least a year)
pork shank $5
ON THE MENU: "croque monsieur (with a quarter-ounce of cured ham) topped with an egg $12"
• shoulder butt AND picnic shoulder
bone-in shoulder $4.50
ON THE MENU: pork meatballs ground with ginger and seasoned with soy sauce on crusty bread $13
• "Freebies"
head (used for guanciale, or a half pig can fill 30 orders of braised head at $10 each)
blood (blood sausage—blood, onions, and rice, 40 orders at $5)
liver (terrine, 30 orders at $10)
skin (pork rind $4)
trotters
fatback (layer of fat that covers the spine, used for dumplings $6)
lard
Before it's here, it's on the Bloomberg Terminal.
LEARN MORE