Gibson and the Feds Make Nice. Sort of
By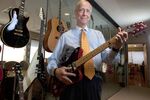 Keith Richards has a Gibson guitar. So do Eric Clapton, Sheryl Crow, Bob Dylan, and a whole bunch of other, well-known musicians. Gibson manufactures the guitars in Nashville and Memphis. The company is more than a hundred years old and has annual sales of about $500 million. It would seem like an all-American business success story.
The company has also been in a peculiar, controversial, and well-publicized fight with the U.S. Department of Justice over accusations that it illegally imported wood from Madagascar and India for its guitars. The two sides resolved the investigation on August 6. The government won't pursue criminal charges that Gibson violated the Lacey Act, a 100-year-old conservation law that was amended in 2008 to ensure that wood and plant products aren't exported in violation of the laws of another country. Gibson will pay a penalty of $300,000, give an additional $50,000 to the National Fish & Wildlife Foundation for conservation of protected trees, and forfeit claims to wood worth about $260,000 and seized in raids on its factories in 2011.
During those raids, agents from the Department of Homeland Security and the U.S. Fish and Wildlife Service rushed into the factories with guns on their hips, temporarily disrupted business, and unwittingly turned Gibson into a symbol for all those claiming that President Obama is anti-business. In a Bloomberg Businessweek story published in January, the chief executive of Gibson, Henry Juszkiewicz, said: "They dragged me into the political arena, and now I won't leave the stage until I win."
Juszkiewicz, who has been traveling and couldn't be reached for comment, remained defiant in his response posted on the company's website. He called the government's efforts violent and hostile and a waste of taxpayer dollars. "This shows the increasing trend on the part of government to criminalize rules and regulations and treat US businesses in the same way drug dealers are treated."
He also said that when it comes to exercising due diligence with regard to the importation of questionable wood, "we can always do better."
Before it's here, it's on the Bloomberg Terminal.
LEARN MORE