Favorite Professors: Tulane's Michael Hogg
Kate Abbott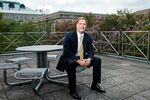 Michael Hogg
Freeman School of Business, Tulane University
Undergraduate courses taught: Legal Environment of Business, Business Law, Insurance and Risk Management, and an introductory freshman seminar
If you ever found yourself in jail, would you count on a professor to bail you out? In his 18 years on staff at Tulane University, business professor Michael Hogg has been called upon by students to do so on more than one occasion. (As a former attorney who has long lived in the area, he says he knows the process.) Hogg lectures on a variety of subjects in his classes, ranging from employment law to insurance hedging, and he maintains that the course material is challenging. He calls his teaching style "a bit unorthodox" and often takes his students on field trips to trial court or Home Depot to better understand the application of subject material in the real world. "I like to get Facebook photos of my students and create a story out of them for test problems," he says. "That removes stress. Students often laugh during tests though, and that's a little weird."
In addition to teaching, Hogg currently serves as vice president of student affairs at the university. Before becoming a professor, Hogg practiced law. "Then I had the opportunity to teach and I fell in love with it," he says. Hogg received three degrees from Tulane: a B.A. in economics and history in 1980 and an MBA and J.D. in 1984.
Students Say:
—"The classes he taught we conducted in a discussion-based style, similar to a law school class. Students had to be prepared to answer questions at all times. Professor Hogg also used elaborate examples to explain complex legal concepts, which created a deeper comprehension of the curriculum."
—"An outstanding professor that truly cares about his students. He is a professional and it shows. Additionally, he is always willing to help, even if the matter is nonacademic."
Hogg Says:
"Once, I taught a lesson demonstrating product liability: I used a paper shredder and shredded my tie. That type of teaching is helping [students] relate to the material; it's not just something on the printed page. They loved that, but I was thankful they turned off the machine."

Editor's Note: This profile is part of Bloomberg Businessweek's series on favorite undergraduate business professors. Subjects were chosen based on feedback collected in Bloomberg Businessweek's annual survey of senior business students. The featured professors were the ones most often mentioned by students as being their favorite. Student quotes come directly from the student survey.
Before it's here, it's on the Bloomberg Terminal.
LEARN MORE