B-School Twitter Roundup
Alison Damast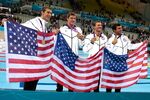 This week's Twitter roundup of happenings in the business school world includes the start of orientation at many business school campuses around the U.S., a business graduate from the University of Texas, Austin who snagged his second gold medal at the Olympics, and reflections about the Sikh religion and tolerance from Cross Continent MBA students at Duke's Fuqua School of Business.
Thunderbird School of Global Management helps international students prepare for fall classes with an English boot camp; students from China, Japan, India, and Libya are among those participating (@Thunderbird, 7/31).
France's Grenoble School of Management has launched the first iPad app dedicated to geopolitics (@Grenoble_EM, 7/31).
Swimmer Ricky Berens, a graduate of the University of Texas, Austin's McCombs School of Business, won his second gold medal as part of the men's 4X200-meter freestyle relay team at the 2012 London Olympics; he won his first at the 2008 Beijing Olympics (@UTexasMcCombs, 8/1).
Deron Kintner, an MBA alum of Indiana University's Kelley School of Business, was named Indianapolis's new deputy mayor for economic development (@KelleySchool, 8/2).
Tom Ransley, a 2009 graduate of the University of Cambridge's Judge Business School and a Olympic rower, won a bronze medal in London as part of Great Britain's men's eight rowing team (@CambridgeJBS, 8/2).
Three Harvard Business School professors share their thoughts on the 2012 London Olympics, including insights on the brand, the investment by the host city, and how the Olympic committee determined ticket pricing (@HBSNews, 8/3).
Kate Endress, a 2011 graduate of the Stanford Graduate School of Business and chief executive officer and co-founder of startup Ditto, shares four keys to success for female entrepreneurs (@StanfordBiz, 8/5).
MBA Orientation starts at many business schools in the U.S. this week, including the University of Notre Dame's Mendoza College of Business (@ND_MBA, 8/6).
Ravi Bansal, a Cross Continent MBA student at Duke's Fuqua School of Business, shares his thoughts on what it means to be a Sikh in light of the shootings on Sunday at a Sikh temple in Wisconsin, as well as how he is educating classmates about his religion (@DukeFuqua, 8/6).
Join the discussion on the Bloomberg Businessweek Business School Forum, visit us on Facebook, and follow @BWbschools on Twitter.
Before it's here, it's on the Bloomberg Terminal.
LEARN MORE