A Stop on the Michael Phelps Press Tour
Pitching shampoo is as dull as swim races are exciting
by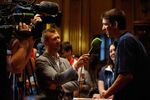 Michael Phelps got out of the pool for the last time as a competitive swimmer on Saturday night after swimming the butterfly leg of the U.S. team's gold medal 100-meter medley. By Sunday afternoon he was into the first lap of his new full-time career as a pitchman. The Greatest Olympic Athlete of All Time started with a press conference hosted by Visa. The next stop on Monday morning was at the "P&G Salon" in London's Marylebone, where Head & Shoulders named him its "first-ever confidence ambassador." (The International Olympic Committee prohibits (PDF) athletes from shilling for companies that are not Olympic sponsors during the Games, so Subway will have to wait until August 15 to name him envoy of foot-longs.)
While work as a confidence ambassador pays better than swimming—Phelps's deal with Procter & Gamble is reportedly seven figures— it's not nearly as thrilling to watch.
About 50 photographers, cameramen, and reporters showed up for the Head & Shoulders event. As they waited outside for admission and then waited inside a further 20 minutes before Phelps appeared, members of the press began interviewing one another, like hikers stranded in a mountain pass resorting to cannibalism.
Eventually Bruce Beck of NBC's New York affiliate took the podium to introduce a marketing executive from P&G, who explained how half the world suffers from dandruff and nothing hurts confidence like a few flakes on your shoulder. She cued up a video with shots of Phelps shampooing his hair and then, as Beck introduced the man himself to a smattering of applause, a little piece of the journalist inside me died. Phelps presented a medal to a young boy from the U.S. who had overcome his fear of swimming. The boy broke down crying as he took the award and Phelps stooped to hug him. The moment of genuine emotion only made the proceedings queasier. We were the backdrop for a very nice commercial.
There followed a question-and-answer session between Phelps and the P&G marketer that went something like this: "confidence goals anything is possible put your mind to it journey have fun confidence goals transcend sports goals possible fun." Beck opened the floor to the press, who wanted Phelps's thoughts on Usain Bolt, his favorite medal, and the importance of confidence for South African swimmer Chad Le Clos.
After about a half-dozen questions, Beck declared time up and I stepped back into the street feeling dirty, like maybe I needed to shampoo with a bottle of Head & Shoulders.
Before it's here, it's on the Bloomberg Terminal.
LEARN MORE