What Makes a Renter vs. an Owner
Age and income count for a lot. Yet past experience is not a reliable guide
by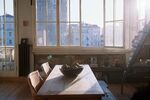 In the pantheon of enduring debates, the question of renting vs. buying reigns king, a boxers-vs.-briefs with real consequences. Fannie Mae's new Rent-Own Analysis shows that what shapes an individual's future plans depends largely on their current status. For renters or borrowers with a mortgage, their attitudes about housing and money drive their intentions of what to do the next time they move.
For people who own their homes outright, income and age are the factors that weigh heaviest in decision-making. This cohort of homeowners tend to be wealthier and older. Some aging homeowners don't see the value in buying again.
The most important factor influencing current renters is their desire to do what makes the most financial sense. Because rent prices are on the rise and home prices are still low, the scale is now tipping more toward buying than in the past. (If you're wondering, Zillow has a new way to run the calculation).
The goals of current owners who have a mortgage is shaped most by concerns about getting a loan in the future. Surprisingly, Fannie Mae found current borrowers didn't reevaluate their goals because of bad experiences in the past. There's a once-an-owner-always-an-owner philosophy that means homeowners don't adapt their future intentions even after facing foreclosure, seeing the value of their home plummet, or finding themselves owing more than their home is worth. If you scan online forums such as Zillow or myFico.com, this may come as no surprise. Homeowners often ask how long after their bankruptcy, foreclosure, or short sale they must wait before they can qualify for a new mortgage.
There's intention, and then there's real life. Income and age together account for 61 percent of the likelihood someone is in fact a renter or an owner, with marital and employment status making up another 15 percent. People can dream and plan all they want, but it's hard to escape the often harsh reality of demographics.
Before it's here, it's on the Bloomberg Terminal.
LEARN MORE