Time to Equalize Tax Breaks for Charitable Giving?
By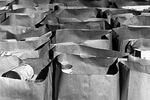 Darren Schultz spends tens of thousands of dollars annually on paper for his digital printing business. During his yearly purge of leftover stock, he tries to sell on EBay whatever the $400,000 business hasn't used. He donates what he can't sell to free clinics and religious groups in his town of Suffolk, Va., about 40 miles west of Virginia Beach. But he says he would donate all of Copico's excess inventory if the tax rules on charitable donations gave his S-corporation the same breaks they give C-corporations, a business entity typically favored by larger companies. "I'd rather give this inventory away and take a tax deduction than sell it and take a loss," says Schultz.
Under current tax rules, companies organized as S-corporations, partnerships, and sole proprietorships may get greater financial benefit from trashing unused inventory than by donating it to nonprofits, says Gene Fairbrother, small business consultant to the National Association for the Self-Employed. The conundrum exists because of a disparity in tax treatment: Under IRS section 170, C-corps that donate excess inventory or equipment can claim an enhanced deduction, up to twice the cost of those items, on their taxes. What are known as pass-through entities—S-corps, partnerships, and sole proprietors—get to deduct only the original amount.
The uneven tax treatment is merely one example of myriad tax laws that put the self-employed and small businesses at a disadvantage. The inequality happens because large corporations with thousands of employees have "the ability to twist the arms of legislators," Fairbrother says. "For years and years, the NASE has been fighting for legislation that would say a business is a business is a business, and it doesn't matter what kind of paper you operate under."
One step in that direction is pending legislation endorsed by the NASE and lobbying group S Corporation Association that would level the playing field on inventory donations and presumably increase small business owners' charitable giving as a by-product. H.R. 2592, the Charitable Contribution Parity and Enhancement Act, was introduced in Congress last August by Rep. Aaron Schock (R-Ill.). The legislation was conceived two years ago by the National Association for the Exchange of Industrial Resources, a gifts-in-kind nonprofit located in Galesburg, Ill.
Gary Smith, whose father, Norbert, founded NAEIR in 1977, says his organization would benefit if the legislation goes through, estimating that 20 percent of the 5,000 S-corporations currently on the organization's mailing list would begin to donate or increase their donations of excess inventory, with about half making direct donations and half going through NAEIR or other gifts-in-kind groups. NAEIR has 70 employees and handled $97.5 million worth of merchandise, such as office supplies, computer software, and books, in the 12 months through June. Corporations that funnel excess inventory through NAEIR's 450,000-square-foot warehouse to schools, churches, and other nonprofits include 3M, Avery Dennison, and Hallmark Cards.
The real winners if the legislation is enacted, Smith says, would be small business owners, charities now facing decreased donations, and the disadvantaged Americans they serve, who were hardest-hit by the recent recession. Knowing they could get an enhanced tax deduction would prompt small business owners to develop ongoing relationships with local charities, Smith suggests. NAEIR and other gifts-in-kind groups would step in when small businesses have multiple truckloads of excess merchandise and need help transferring them to nonprofits, he says. His organization has nearly 15,000 nonprofit organizations that pay from $60 to $600 in annual membership dues, allowing them to order items from NAEIR catalogs for fees that cover the cost of handling. A program for teachers costs $19 annually and allows them to order school supplies through NAEIR's website. The average value of product distributed to each member annually is $6,000.
It is worth noting that the organization received a "standards not met" report from the Better Business Bureau. The BBB's so-called charity accountability standards require at least five voting board members with no more than one of them directly or indirectly compensated and no compensated member serving as board chair or treasurer. NAEIR has three board members, including Smith, and all are compensated. Smith receives total compensation of $320,120, according to NAEIR's 2011 IRS Form 990; five individuals in the organization received more than $100,000 in reportable compensation.
Smith says the BBB's standards are "the old-school mode of thinking," and he says NAEIR prefers a more entrepreneurial approach to nonprofit management. "I have sat on too many boards that never get anything done," he says, adding that he and his fellow board members are knowledgeable about marketing, distribution, and nonprofit management—a combination of expertise that is difficult to find. "We don't have any real reason to change," Smith says.
An analysis NAEIR did of the fiscal implications of the charitable parity legislation showed that allowing enhanced deductions for small businesses would cost the federal government $800 million in lost tax revenue over 10 years but would increase receipt of charitable in-kind donations by four times that figure.
If the legislation became law, it would prompt Jim White, owner of Mobility Remodelers, to increase his charitable giving. His five-employee, $1 million business, based in Port Huron, Mich., already donates about 5 percent of its profits annually in used bath fixtures and free labor to groups such as Habitat for Humanity, he says. Getting a bigger tax break on unused inventory would be "tremendous," he says. For instance, White has a shower ordered by mistake sitting in his inventory and unlikely to sell soon. "We're about to do a free job for a nonprofit vacation spot for people terminally ill with HIV, and I could use it there," he says. "As an independent small business person, [the legislation] would make me more cognizant about searching out those opportunities and spur me to more charitable contributions."
With members of Congress on summer break and certain to focus on the fall election when they return, the legislation's supporters are not expecting any quick action. "We're all hoping that something's going to happen after the election," Smith says. "The public is really clamoring for tax reform, so if not after the election, maybe somewhere in 2013."
Before it's here, it's on the Bloomberg Terminal.
LEARN MORE