Britain's Anne-Marie Slaughter Moment
Louise Mensch's decision to leave Parliament causes a stir
By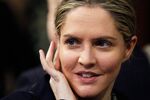 On Monday morning the U.K. chattering classes awoke to a startling bit of news: Louise Mensch—the Conservative member of Parliament noted as much for how mediagenic she is as for any of her policy positions—is resigning from her post because it "proved impossible to balance the needs of my family," according to her Twitter feed. "I am completely devastated," she told her local newspaper, the Northamptonshire Telegraph, which broke the news. "It's been unbelievably difficult to manage family life."
Mensch, 41, has a much higher—and more controversial—profile than the average government functionary. She's an avid Twitter user, with more than 100,000 followers, as well as an author of pulpy novels geared toward women, using the pseudonym Louise Bagshawe ("Lisa Costello woke up next to her husband's corpse," begins the latest, called Desire). Recently she launched a social networking startup called Menschn.com, intended to compete with Twitter, and got married for the second time last year.
Mensch's career bomb, and the reasons for it, set off a predictable wave of handwringing as commenters attempted to interpret it as another example of how "having it all" remains as elusive for women as ever—reminiscent of the debate that followed the July Atlantic cover story by Princeton professor Anne-Marie Slaughter on the same subject. After all, the reasoning goes, if Mensch—connected, successful, and clearly in an economic position to afford whatever help she might require to manage the needs of her three young children—can't hack it in high-level government, what's the hope for other women? Mensch even hinted that Prime Minister David Cameron had gone out of his way to accommodate her schedule, allowing her to work from home, among other things, and she still couldn't make it work. The Daily Telegraph posted a video clip of Mensch interrogating Rupert and James Murdoch last spring: "Mr. Murdoch, I apologize in advance, but I'm going to leave the committee after asking you my last question," she said. "We have children the same age, I think, and I have to go back home and pick them up from school." (His response: "Good luck.")
What the whole incident reveals most clearly is the public's eagerness to inject every female career decision with a significance it may not deserve. For all her mentions of her family, both during her time in Parliament and when she announced she was quitting, Mensch is dealing with life challenges that are more complicated than most women's work-life balance dilemmas. The man she just married is Peter Mensch, who manages the rock groups Metallica and Red Hot Chili Peppers. He happens to live in New York. It's possible that his new wife is leaving her fancy government job just to be closer to him.
Before it's here, it's on the Bloomberg Terminal.
LEARN MORE