Australia's Latest Import: U.S. Electricians
Harold L. Sirkin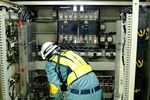 One of the benefits of international travel is that you get to read about various issues from different perspectives. What you learn can be eye-opening.
Consider the "jobs" story. In the U.S., the jobs story is about unemployment: more than 8 percent of the workforce unemployed for 40 straight months. The story is similar in much of Europe, with unemployment across the EU averaging 11.1 percent in July.
So I was surprised on a recent trip to read the following headline, "Communications Electrical and Plumbing Union bid to import U.S. workers," in The Australian (Australia's national newspaper). That's a headline I thought I'd never see.
With an abundance of coal and iron ore, Australia is where China's supply chain begins. But Australia's population is just 22.6 million, and it doesn't have enough skilled workers to keep the mines running. So the Communications Electrical & Plumbing Union (CEPU) has proposed recruiting 1,000-2,000 temporary electrical workers from the U.S. to support mining expansion. Indeed, a recent survey of Australian construction companies by the Australian Industry Group and Business Council of Australia found that 75 percent of the companies anticipate "major difficulty hiring skilled labor."
The situation is so critical that it apparently makes sense for Australian companies to recruit U.S. electricians, fly them Down Under, pay for their housing, and offer them premium wages so they can build out their mines.
That assumes, of course, that they can find these workers.
Like most other industrialized countries, America's skilled labor force is aging—and we're not training enough new workers to take their place.
The skilled trades—construction workers, electricians, steamfitters, tool-and-die makers—are critically important to our economy. And, as the Australian story drives home, we'll be competing for such talent with others in future years, as we compete for everything else.
For too long, many U.S. elites have thumbed their noses at the "guy with the lunch pail." As a result, most of these "guys" (and women in recent decades) steer their own kids away from the trades. Go to college, they say.
But a college degree doesn't necessarily mean higher pay. According to the Bureau of Labor Statistics' Occupational Outlook Handbook, the median income of U.S. electricians in 2010 was $48,250 per year, or $23.20 per hour. Many college graduates earn less.
If the U.S. hopes to compete, we need to encourage young people to go into these fields. One way to do that, perhaps, is by creating new hybrid degrees—and perhaps even colleges—that combine liberal arts education with skills training.
For young people who like to work with their hands, this would be the best of both worlds: a college degree that will earn them both the respect of a college education and a way to earn a good living doing something useful.
Before it's here, it's on the Bloomberg Terminal.
LEARN MORE