A Hungarian Olympic Gold Medalist, One Week Later
By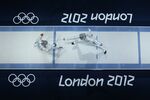 Aron Szilagyi started fencing at age nine, when his mother took him to a local fencing club in Budapest, Hungary. The sport is big there, with Hungarians winning more than 80 medals in the country's Olympic history. Szilagyi says he knew right away that he would compete seriously. Six months later, he won the national championship for 10- and 11-year-olds. On the first Sunday of the London Games, the underdog 22-year-old reached the top of his sport, defeating Italy's Diego Occhiuzzi to win the gold medal in men's saber. Because Hungary had failed to qualify for the team competition, he was done for the fortnight. So what did the freshly minted Olympic champion do with two weeks to spend in London? Stroll around the Olympic Village with a gold medal around his neck? Dine out on his victory all over the city?
Nope. He spoke to a lot of press, watched a few of his countrymen compete, met a friend for a couple of beers, and headed back to Budapest before week's end. On Sunday night, after winning his medal, Szilagyi's first stop was the press center for a long stretch of interviews. He arrived back at his Olympic Village room at 2 a.m. and went straight to bed. The next morning he woke early for a live radio interview from Budapest. There was no flaunting of his medal around the village. He didn't want to lord it over teammates who hadn't done as well as they'd hoped. "I didn't see anybody like that in the village," he says. "We're all sportsmen. We know how hard it is."
Szilagyi did bring his gold with him to meet a friend who lives in the city for "London" beers. "You don't get to see a gold medal every day," he says. On Tuesday morning he watched the men's water polo team from Hungary fall to Montenegro in a preliminary round. And on Wednesday evening he saw Daniel Gyurta win the men's 200-meter breaststroke, his country's other gold medal of the games so far. Then he flew home.
Hungary allows medal winners to stay for the two weeks of Olympics competition. (Others have to head home after they finish competing.) And Szilagyi is fully sponsored by the country's oil and gas giant, MOL. So why didn't he hang around? "A lot of people ask me this question," he says by phone from his home in Budapest. "Of course it's a great thing to be at an Olympic games. I enjoyed every minute of it. But I wanted to be at home with friends and family and sleep in my own bed." In the year-and-a-half runup to the Games, Szilagyi was training at least four hours a day and keeping up with his studies as a third-year student in international relations at Eötvöts Loránd University (ELTE) in Budapest.
In the fall he will begin gearing up for the world championships next year in Budapest, plus graduate work in psychology for when his sporting days are over. (He hopes to keep competing for at least the next decade, or until his body refuses to.) For the next couple of months, though, Szilagyi hopes to do as close to nothing as possible. "It's very, very good to be in my room and relax," he says.
Before it's here, it's on the Bloomberg Terminal.
LEARN MORE