Why Time-Share King David Siegel Thinks He Got Bush Elected
By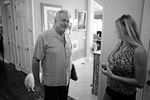 A lot of people are wondering how much influence a few rich businessmen will have on the presidential election. The rich businessmen might be wondering, too. But mostly they're not talking about it. There's one exception: David Siegel, the founder of Westgate Resorts, the biggest private time-share developer in the country and the subject of the much-noted documentary The Queen of Versailles. In the movie, Siegel says that he was personally responsible for the election of George W. Bush in 2000. He doesn't elaborate. But he did when I interviewed him in February in Orlando. (My story, in which I didn't delve into the election, is here.)
Siegel doesn't see why he should keep quiet about his ambitions or accomplishments or much of anything else. He was building what could be the biggest home in the country when he agreed to let filmmaker Lauren Greenfield document the process. Then came the recession. Siegel's business suffered and he stopped construction of the house, which he and his wife, Jackie, call Versailles. But he let Greenfield keep filming. Just before the movie premiered at Sundance, he sued her for defamation. The case is in the courts. The movie is in theaters. (Among the most recent pieces to note Siegel's kingmaker claims is this one.)
"I'm not bragging, I'm just stating the fact: I personally got George W. Bush elected," Siegel told me during two days of interviews. "I'm not proud of it. I feel like I'm responsible for all the problems in the world." By that he meant, mostly, the then-deteriorating situation in Iraq.
Here's Siegel's account of how he swung the election in Bush's favor: "Whenever I saw a negative article about [Al] Gore, I put it in with the paychecks of my 8,000 employees. I had my managers do a survey on every employee. If they liked Bush, we made them register to vote. But not if they liked Gore. The week before [the election] we made 80,000 phone calls through my call center—they were robo-calls. On Election Day, we made sure everyone who was voting for Bush got to the polls. I didn't know he would win by 527 votes. Afterward, we did a survey among the employees to find out who voted who wouldn't have otherwise. One thousand of them said so."
Before it's here, it's on the Bloomberg Terminal.
LEARN MORE