The Wealth Effect and College Choice
by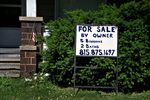 A high school student's home is a harbinger of the type of college he or she may attend. This is because housing often corresponds to family income, which is one of the biggest predictors of educational advancement.
New research by a Cornell University professor, however, shows that the boom and bust cycle that has characterized the housing market in recent years can also influence educational choices. All other things being equal, a student whose parents' home appreciated in the four years leading up to college has a better chance of favorable long-term consequences than one whose parents' home value remained unchanged, the study found.
That student was more likely to attend a flagship university, less likely to go to a community college, and more likely to apply to a wider variety of higher-quality schools. The latter means that student had a higher likelihood of attending a "reach" school, says the study's co-author, Michael Lovenheim, whose work was recently featured by the National Bureau of Economic Research.
These factors bode well for a student's long-term earnings potential: Fewer than one in 10 community college students ultimately gets a bachelor's degree. And among four-year colleges, attending a top-tier school results in a wage premium of 5 percent to 20 percent, according to a report from the Century Foundation.
The revelation of Lovenheim's findings is that high school students are making college application decisions based on perceived family wealth.
In other words, when a student's family feels flush because its liquid assets are valued highly, the student is more apt to go on a college application spree and less likely to cross a school off his or her list due to a high tuition sticker price.
Without a perceived financial boost, students may self-select out of applying to colleges they don't know they can afford.
Schools that fall into this category may include the University of Pennsylvania and Boston College—both of which have undergraduate business programs ranked in Bloomberg Businessweek's top ten. Those schools tend to have costly tuition sticker prices, but their graduates carry less than $20,000 in student debt, on average, after financial aid is doled out, according to the Washington Post.
That beats the average student debt burden of $22,900 for 2011 college graduates nationally, according to the Wall Street Journal, which cites data from the National Center for Education Statistics.
Lovenheim's study looked at students who were making college decisions from 1998 to 2003, which coincided with the housing boom. The reverse effect likely happens when home prices fall, he says. He was not able to isolate that effect during the recession, however, because other economic variables, such as unemployment, probably influenced college decisions as well, he adds.
The news is grim for many high school students. Junior high schoolers, however, may have a glimmer of hope: Zillow said last week that home values posted their first year-over-year increase since 2007.
Join the discussion on the Bloomberg Businessweek Business School Forum, visit us on Facebook, and follow @BWbschools on Twitter.
Before it's here, it's on the Bloomberg Terminal.
LEARN MORE