The Legs That Have the Hamptons Up in Arms
Paul Wachter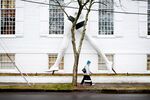 Nothing engrosses the posh denizens of the Hamptons quite like scandalous property fights. Recently the "Letters to the Editor" section of the Southampton Press made only a brief, passing mention of Mitt Romney's lavish, highly publicized fundraiser—and the flood of Tea Partiers at a local Fourth of July parade. Far more space was devoted to angry grumblings about Bridgehampton homeowner Janet Finkel's attempts to build a pool in her front yard.
This summer in Sag Harbor, the scandal that dominated the local gossip was known as the "Legs" controversy. Its focus is a 16-foot fiberglass sculpture of female gams, spread apart in a long stride, constructed by the late pop artist Larry Rivers. The work is owned by Janet Lehr and Ruth Vered, proprietors of East Hampton's Vered Art Gallery, and it has stood proudly next to their home for the past four years, in full view of the street.
In the time that Legs has stood alongside her home, "we've only had two complaints," Vered says. "One neighbor asked us to dim the lights that illuminated the sculpture at night, and we did. And the other was from a person who was selling a nearby house but wasn't living in the neighborhood."
In April, though, the Sag Harbor Village Zoning Board of Appeals denied Lehr and Vered the variances necessary to make their installation legal, ordering them to take the sculpture down by Sept. 15. Now, Lehr and Vered are suing to keep it up. According to them and their supporters, the fight is not just about a property dispute but the latest battle in the age-old war of art's place in the public eye. "Six hundred and fifty people have signed a petition to keep the sculpture up," Vered says.
Village officials say they're not acting as censors. Rather, they've deemed the sculpture as a "structure," which the local zone defines as "anything constructed or erected on or under the ground or upon another structure or building." As such, Legs is too close to the property line, officials say.
"We are not persuaded by the argument that a sculpture is 'art'; and therefore somehow exempt from the Village Zoning Code," read the board's unanimous decision handed down in April. It continued:
A sculpture can be both "art" and a structure subject to zoning. There is nothing in the Sag Harbor Village Zoning Code that exempts "art" from the definition of a structure. Further, the concept of a local government determining what does and does not constitute "art" would present a constitutional conundrum that government must avoid. "Art," like "beauty," is in the eye of the beholder and is not something to be legislated.
New York State Assemblyman Fred Thiele Jr., an attorney for the village, says the fight isn't about aesthetic tastes. "I think Sag Harbor has a solid reputation as a supportive colony for artists and writers," he says. "This isn't about art. It's a simple zoning matter, and the town has never given a variance for something this far out of compliance with the code."
Vered says the town should be delighted to have a Rivers sculpture as part of its public cultural heritage. She also points out that village officials haven't taken issue with a smaller stone sculpture, by Israeli American artist Boaz Vaadia, which stands before the house's front steps and is also less than the zoning code-mandated 35 feet from the property line.
"So you see, it must be an aesthetic judgment on their part," she says. "Sag Harbor likes to present itself as an artistic community, but it's not really the case."
As for Rivers, who died in 2002, there's little doubt whose side he would take. He once displayed Legs outside his own home in Southampton. And before his death, Easthampton Village Police removed his sculpture of a naked women that was displayed in art dealer Leo Castelli's yard.
Before it's here, it's on the Bloomberg Terminal.
LEARN MORE