The Five Biggest Olympic Surprises (So Far)
Blazing fast swims, ousted Spaniards, and cheerful Brits
by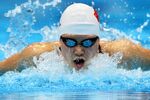 Declaring a top-five anything at an event with 906 medals shared out among 10,000 athletes in from 205 countries in front of 25,000 journalists and a city of 7.5 million is probably a fool's errand. So without further ado, I present the definitive top-five surprises of the Olympics so far.
1) Ye Shiwen
When the 16-year-old Chinese swimmer won gold and set the world record in the women's 400-meter individual medley on Saturday, she topped her personal best by five seconds and swam the last 50 meters of the race faster than Ryan Lochte. It was a stunning performance, and, in the eyes of U.S. swim coach John Leonard, too good to be true.  "History in our sport will tell you that every time we see something, and I will put quotation marks around this, 'unbelievable,' history shows us that it turns out later on there was doping involved," he told the Guardian afterwards. It was not a charitable statement, but then neither were doubts about the time Barry Bonds jumped from 49 home runs in a season to 73.
2) Bradley Wiggins, British celebrity
A month ago, few people outside of the cycling world had heard of Bradley Wiggins. Now he is the toast of London, with calls for knighthood, tribute sideburns, Royal Mail stamps in his honor, and talk of $45 million in sponsorship deals. (Read all about in the Daily Mail.) His sudden fame comes mostly from winning the Tour de France and then a gold medal in his home country. Telling the BBC afterwards, "I'm just going to get really drunk tonight and have a good think about things" probably doesn't hurt.
3) Spain bumped early from soccer
The Olympics are the redheaded stepchild of international soccer. In Europe, they take a backseat to both the World Cup and the European Championship. And each team is allowed  to include only three players above the age of 23. So the games are not the best barometer of soccer power. But you would still expect to see the Spaniards, who have won consecutive European titles and the last World Cup, in the final eight, as opposed to, say, Senegal or Egypt.
4) There is such a thing as a badminton scandal
If you're like me, it's a small surprise to even see badminton on the Olympic schedule every four years. Yet it became one of the major stories of the first week of the games, with hoards of broadcast journalist standing outside of Wembley Arena on Tuesday and Wednesday to report live from the scene of a match-fixing scandal that became the talk of the town. Who says there's no such thing as bad publicity?
5) London's "Games Makers" are relentlessly happy
I don't mean to suggest that doping is involved, but when I came to the home of grumbling for an event that, for all its splendor, is also known for corporate capture, massive expense and hassle, and dubious public benefit, I didn't expect to be greeted everywhere by an army of cheerful, unflappable, and eager Brits. London's 70,000 volunteers put up medal platforms on the fly, line-dance with umbrellas through Olympic Park whenever it rains, direct crowds using pink foam fingers and megaphones, and tell confused foreigners like me where to find an event or seat or restroom or bus or cup of coffee. And except for one overheard conversation on a very crowded train about spectators ignoring repeated warnings about the no-liquid rule (which does sound annoying), I haven't heard a single grumble. Pardon me while I try to picture that many New Yorkers volunteering to help half a million tourists take over their city.
Before it's here, it's on the Bloomberg Terminal.
LEARN MORE