The 163,000 Jobs Gain in July Is Good, But Not Great
Some negative news buried inside a good report
By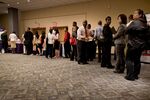 The U.S. economy created more jobs than expected in July, 163,000, which indicates the economy is well away from the brink of recession. But details of the government's jobs report took some luster off the headline number. The government revised previous months' gains slightly lower, and the unemployment rate rose a tick to a five-month high of 8.3 percent. Also, the July increase was partly due to a quirk in auto production scheduling that could be reversed in coming months.
Bloomberg News reports that the unexpectedly large gain of 12,800 jobs at makers of motor vehicles and parts "may have reflected fewer shutdowns at automakers for annual retooling related to the new model year, indicating the jump will be reversed this month." Which is to say, the August number could give back a bit of the July gain.
The jobs number of 163,000—vs. the 100,000 median forecast of economists surveyed by Bloomberg—comes from a survey of employers. The unemployment number of 8.3 percent is drawn from a separate survey of households, which is why it can go up even when the number of jobs is growing. In July, the household survey showed a drop of 195,000 people who said they were employed. That's a worrisome contra-indicator to the employer survey, and another reason not to celebrate.
Economists split over whether the glass was half empty or full. "The details do nothing to dissuade the notion that economic activity remains soft," wrote Steve Blitz, chief economist at ITG Investment Research. On the other hand, Jason Schenker of Prestige Economics called the report "surprisingly solid." Joseph LaVorgna of Deutsche Bank Securities dubbed the report "mixed to slightly better."
The healthiest jobs increase since February does help validate the decision of rate-setters at the Federal Reserve not to further loosen monetary policy at their July 31-Aug. 1 meeting. What's more, "In our judgment, a similar pace of employment growth in August, if it is combined with a modest improvement in activity data and broadly stable financial market conditions, would be sufficient for the Fed to hold off on a further round of balance sheet expansion in September," Barclays Research economist Peter Newland wrote in a note to clients.
The persistence of long-term unemployment remains one of the signatures of this sluggish recovery. The Bureau of Labor Statistics said that 5.2 million people in July had been unemployed for more than half a year. That accounted for 40.7 percent of all the unemployed, an unusually high share although down from the peak of 45.5 percent in March 2011. What's worse, within that group of long-term unemployed there is a subgroup of people whose situation is much worse. Many have been unemployed for two years or more. They pull up the average duration of unemployment, which in August was 38.8 weeks, not much lower than the peak of 40.9 weeks last November. (Pulling down the average is a big group of people who jump in and out of work, with bouts of unemployment of a month or less.)
Other key figures in the report:
• The May jobs increase was revised upward by 10,000 to 87,000, while the June number was revised downward by 16,000 to 64,000—a net decrease of 6,000 jobs.
• The civilian labor force participation rate, at 63.7 percent, and the employment-population ratio, at 58.4 percent, were little changed from June.
• The July gain bumped up the monthly average job gain in 2012 to 151,000 a month, just shy of the 2011 average of 153,000.
• The average workweek was unchanged at 34.5 hours.
• Average hourly earnings for all employees on private nonfarm payrolls rose 2 cents to $23.52. They're up 1.7 percent from a year earlier.
• Youth unemployment rates were roughly unchanged at 23.8 percent for teenagers and 13.5 percent for people aged 20-24. As a point of comparison, in the European Union, unemployment among youths aged 16-24 in June was 22.6 percent.
Before it's here, it's on the Bloomberg Terminal.
LEARN MORE