business
B-School Highlights: Aug. 3
Francesca Di Meglio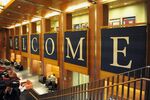 Some of the events and announcements from top business schools in the U.S. and around the world that made news in the past two weeks:
Robert Widing, currently dean of the Macquarie School of Management in Sydney, will take over as dean of Case Western Reserve University's Weatherhead School of Management on Oct. 15, according to a recent announcement. Widing served as a professor at Weatherhead from 1988 to 1993.
Private and public high school teachers, principals, administrators, and superintendents will spend Sept. 28-30 at the University of Pennsylvania's Wharton School for an all-expenses-paid conference aimed at making them more literate in finance, so they can better educate today's students on the subject. Sponsored by Knowledge@Wharton High School, an organization that aims to instruct high school students and their teachers on finance, and PricewaterhouseCoopers, the seminar will cover stocks and investing, marketing and branding, leadership and entrepreneurship, negotiation, sustainability, and career planning. Participants will come away with a financial literacy curricula they can bring to their classrooms.
Columbia Business School entrepreneurs can take advantage of the Columbia Business Lab, new office space in Manhattan's SoHo for the recently graduated who are launching businesses, according to a July 17 announcement. Select entrepreneurs will have access to school resources, faculty advisers, programming, and events. The school is funding the space, which will be governed by the lab's leadership board and will receive management oversight from the Eugene Lang Entrepreneurship Center.
The University of Toronto's Rotman School of Management announced on July 23 the appointment of seven new faculty members. Assistant professors Spike Lee (marketing), Chayawat Ornthanalai (finance), and Andras Tilcsik (strategic management), and associate professor Heski Bar-Isaac (business economics) will join Rotman. Aida Wahid, assistant professor of accounting, will join the University of Toronto Mississauga, and Sam Maglio, assistant professor of marketing, will join the University of Toronto Scarborough. Will Cunningham, an associate professor of psychology at the University of Toronto, will have a joint appointment in the Rotman marketing department.
Join the discussion on the Bloomberg Businessweek Business School Forum, visit us on Facebook, and follow @BWbschools on Twitter.
Before it's here, it's on the Bloomberg Terminal.
LEARN MORE