Why the Olympics Are Costing America $1.4 Billion
by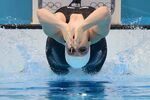 Work? But women's skeet shooting is on! NBC really wants you to watch the Olympics—even at the office. You're probably watching water polo right now. The network's Olympic onslaught operates on all media fronts: network and cable television, live streaming online, and on mobile devices. While this is great for fans, digital media company Captivate Network estimates that Olympics-related distractions will result in a $1.38 billion loss in productivity for U.S. companies, up from its previous estimate of $650 million, due to unexpectedly high viewership.
The biggest distractions: Captivate says among the 27 percent of surveyed people who say they watch Olympic events during the workday, swimming is the most viewed sport, followed by gymnastics, beach volleyball, and diving. Captivate surveyed 355 people in the U.S. on Aug. 1. (All-day data from NBC show that on its cable networks, including Bravo, archery is now the most watched sport, possibly due to a boost in interest from The Hunger Games as well as popular American archer Brady Ellison. Jeremy Renner's Nighthawk, the non-superpowered archer character he plays in The Avengers, may also have had an impact, but it's unlikely.)
NBC Sports Group Chairman Mark Lazarus says the goal was to make the Games available on all devices so there's "enough content to be consumed if you're at a restaurant having lunch, or at an office with a PC, or an office with a TV."
Weekday daytime and afternoon ratings for the London Games are beating those set in Beijing. Primetime coverage—which attracts the bulk of Olympic watchers—so far have exceeded Beijing every night, Lazarus said during a press conference on Aug. 2. This Olympics, originally expected to lose about $200 million, is now expected to break even and might be one of the most watched Olympics ever, he said.
At select Citigroup buildings nationwide, the Olympics are on in televisions in cafeterias, break rooms, and elevator banks. Even in offices where TVs are set to news channels, such as at the New York Stock Exchange, workers can glimpse recaps. Anyone with an Internet connection can check scores online (though only 11 percent of people in a Gallup poll planned to watch via the Internet).
Some consider the deluge of content a distraction, but James Frischling, president and co-founder of New York financial advisory NewOak Capital, says the firm's if-you-can't-beat-them-join-them approach helps productivity. NewOak employees, who have control of the remote, have set two of the office's three televisions to the Games with the volume off. After seeing employees sneak out during previous years' NCAA and World Cup games, "We came to the realization that if we don't do this, people will just wander down to the bar," he says.
Employers' battle against sports may not be winnable. During the 2010 World Cup, InsideView estimated that the U.S. lost $121 million in decreased economic output, and the U.K. lost $7.3 billion. Productivity lost to college basketball's March Madness this year cost employers an estimated $175 million during the first two days of the NCAA tournament, according to an unscientific estimate (pdf) by Challenger, Gray & Christmas, an outplacement consulting firm.
Productivity concerns aside, says Frischling, "There's a positive energy to have it on."
Before it's here, it's on the Bloomberg Terminal.
LEARN MORE