Should Olympic Winnings Be Taxed?
By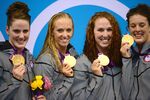 Swimming phenom Missy Franklin won't just be taking home a pile of medals from London. The U.S. Olympic Organizing Committee will send her off with prize money of $25,000 per gold. Silver medalists get $15,000, and those earning the bronze collect $10,000.
That's before taxes, as Senator Marco Rubio (R-Fla.) pointed out Wednesday when he introduced the Olympic Tax Elimination Act. Like Nobel Prize money and lottery winnings, medalists' cash prizes and the fair market value of the medals themselves are subject to ordinary income taxes. Rubio's bill would put an end to that.
The IRS hasn't always had a claim to prizes. The provision went on the books as part of the last tax-code overhaul under President Ronald Reagan. "From the inception of the Internal Revenue Code in 1913, up until 1986, the general rule was prizes and awards were not includable in gross income," explains Barry J. Hart, a tax attorney with Winston & Strawn in Washington.
That 1986 overhaul was meant to simplify the tax code, the same thing Washington is obsessing over these days. In his own statement about the bill, Rubio called the tax code "a complicated and burdensome mess" and said:  "We need a fundamental overhaul of our tax code, but we shouldn't wait any time we have a chance to aggressively fix ridiculous tax laws like this tax on Olympians' medals and prize money."
Interesting argument: The tax code's riddled with loopholes, so while we're trying to fix it, let's add in some more loopholes.
Before it's here, it's on the Bloomberg Terminal.
LEARN MORE