Japan Wants Free Trade. Its Farmers Don't
A rural minority wields outsize clout
by and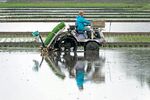 The U.S. and Japanese governments want it. Mitsubishi backs it. Toyota Motor says it can't compete without it. Yet whether Japan joins the biggest attempt at a free-trade pact may hinge on farmers like Tadashi Hirose. Hirose loses money on his 14 hectares (35 acres) of paddies in southwest Hokkaido, forcing him to take a second job at a construction company. Still, he says, if Japan joins the Trans-Pacific Partnership trade pact, or TPP, the resulting competition from abroad would destroy his family's livelihood and economically devastate Hokkaido, the top rice-producing region.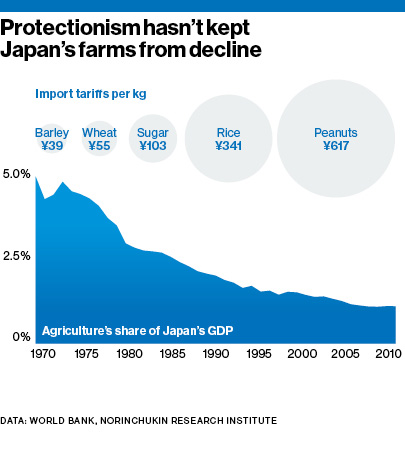 Pacific Rim nations including the U.S., Canada, Singapore, and Mexico have been negotiating for years to come up with a trade treaty that would radically reduce tariffs and other trade barriers throughout the region. Japan has announced its desire to join the talks, but has yet to do so. One reason is the ferocious opposition of the farm lobby, which benefits from tariffs on imported rice of 341 yen ($4.35) per kilogram. Under the TPP agreement as it is envisioned, those tariffs would disappear. Japan's farms, often only an acre or two in size, would then be overwhelmed by the super-efficient, large-scale agribusinesses of the U.S., New Zealand, Australia, and Canada.
The number of Japanese farmers, full-time and part-time, is 2.5 million—pretty large for a country that is not a major exporter of farm products. Their contribution to Japan's $5.9 trillion gross domestic product is tiny. Yet the farmers wield disproportionate clout in Japanese politics. "Because of the rural bias in Japan's electoral system the farming lobby is very powerful, even though as a percentage of the economy it accounts for 1 percent," says Risaburo Nezu, a former trade negotiator for Japan's government and now a senior executive fellow at the Fujitsu Research Institute.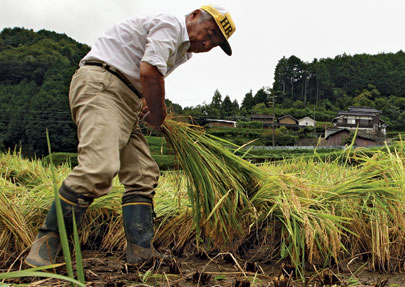 The power behind the farmers is an agricultural cooperative called JA Group. JA dominates corn and rice trading, and runs a bank that holds $532 billion in customer deposits—almost matching Barclays' $568 billion. The cooperative has about 10 million members, roughly 8 percent of Japan's population.
Located just across a side street from each other in downtown Tokyo, the headquarters of JA and Keidanren—the country's biggest business group—are a world apart when it comes to TPP. While Keidanren backs exporters who say that Japan needs accords like the TPP, JA Group says the accord will kill domestic agriculture. According to the calculations of JA's Norinchukin Research Institute, once Australia, the U.S., and New Zealand gain better access to Japan, more than 25 percent of local rice output will cease. Import tariffs at present protect $48 billion in Japanese agricultural produce. If those tariffs disappeared, 99 percent of wheat, almost all sugar, and most beef production in Japan would stop being competitive, says Tetsuro Shimizu, Norinchukin's joint general manager.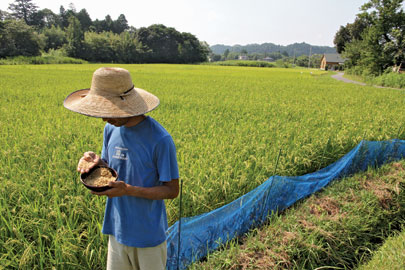 Rice farmer Hirose has his own set of numbers. It costs about 70 yen to produce a kilogram of milk in his hometown of Biratori, while New Zealand does it for 20 yen, he tells neighboring farmers during a break from work. "When I go with my wife to the supermarket I see that foreign meat sells very well," chimes in Hirose's neighbor Yuichi Marubashi, a 51-year-old breeder of wagyu cattle. "The problem is, everyone wants to buy cheap," he says in between sips of canned coffee.
If Japan cuts import tariffs on food for all foreign farmers, its reliance on agricultural products from abroad will rise to 90 percent from about 60 percent, the agriculture ministry estimates. That's a price too high for Japan to pay, says JA Senior Executive Director Shigeo Fuji. "The way Toyota became a model company was via kaizen," Fuji says, referring to the mantra of constant improvement popularized by Asia's biggest automaker. "They used leadership and engineering. It had nothing to do with accords like TPP. Why do they need it now?" What's more, according to Fuji, Japan's narrow islands are no match for the broad Australian and U.S. plains.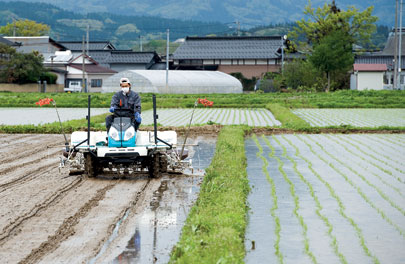 JA's large membership adds influence to the rural vote, which is harnessed mainly through the Liberal Democratic Party that ruled Japan for almost 55 years until 2009. "They call it the iron triangle: JA, the LDP, and the agriculture ministry," says Tokyo University professor Masayoshi Honma. He says reform is tough because JA, the bureaucrats, and rural politicians want to maintain their power above all else. "We can't even force JA to get an outside auditor," he says. "That would be a critical step" in assessing the real profits and losses of Japan's agricultural system.
What Japan's agricultural policy has done so far is simply protect farmers, and that has weakened their competitiveness, says Tetsuhide Mikamo, the director of research at Marubeni, Japan's biggest trading house in agricultural products. If agro-companies consolidated the single-hectare rice paddies that most farmers have into larger fields, the cost to produce a 60 kilogram bag would drop 30 percent, according to Marubeni research.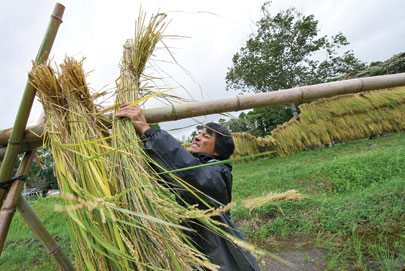 To JA's Fuji and Norinchukin's Shimizu, such calculations are nonsense. "About 20 to 30 hectares is about as big as you can get in Japan before you hit a mountain," Fuji says "The Japanese politicians who push for TPP, they don't understand agriculture," adds Shimizu.
Before it's here, it's on the Bloomberg Terminal.
LEARN MORE