In China, Shadow Banking Moves Online
Websites spring up as peer-to-peer transactions take off
Bloomberg News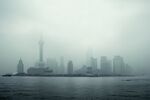 Jack Qiu spends evenings in front of his laptop in the southern Chinese city of Guangzhou, lending money to strangers online. An accountant by day, Qiu may be a better loan manager by night than most bankers. He says only two investments out of his 80,000 yuan ($12,525) total, each worth 100 yuan, have gone unpaid. Nonperforming loans at a Chinese bank, on average, would be almost four times as high. "I don't care what the money is used for, because that's beyond my control," says Qiu, a 30-year-old certified financial planner who jumped into online lending in May by registering at Ppdai.com, one of the largest such sites in China. "For me, the key is to identify those who have at least a willingness to honor their debt, so I need to keep my eyes wide open."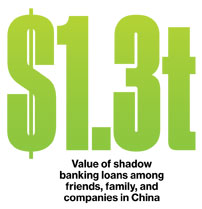 Peer-to-peer lending is taking off as lending among family and acquaintances moves online. More than 2,000 peer-to-peer websites have been set up nationwide since 2007, China National Radio reported in May. Akin to Lending Club or Prosper.com in the U.S., China's online lenders let individuals invest a minimum of 50 yuan in projects ranging from small-business expansions to honeymoons for as much as 23 percent interest, the highest rate allowed.
Loans brokered online increased to 6 billion yuan in the first half of 2011, the latest figures available. That's 300 times the total for all of 2007, the China National Radio report said. Still, online lending is a tiny part of the country's shadow-banking universe—which also includes underground lending, off-balance-sheet financing by banks, and investments from trust firms—that policymakers, led by Premier Wen Jiabao, are trying to bring under government oversight. The total amount that circulates as loans among friends, families, and companies is $1.3 trillion, according to estimates by research firm IHS Global Insight.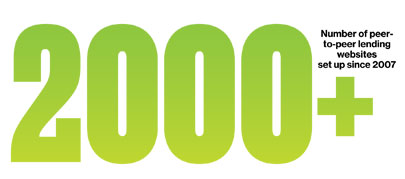 Although the China Banking Regulatory Commission does not supervise Web-based loan brokers, in September it issued a warning, saying that they can cross the line into fraud, funding illegitimate businesses, or money laundering. "There is no discipline at all," says Liao Qiang, a Beijing-based director for financial institutions at Standard & Poor's. "There's no enforcement should borrowers default." So far, problems appear to have been minimal. In June, China Business News reported that a site closed after operating for five days with more than 1 million yuan missing, calling it the first Ponzi scheme in the country's peer-to-peer lending business.
Qiu is happy with his returns: 14.2 percent on an annualized basis in two months. His loans have included 500 yuan for an apartment renovation and 400 yuan to a paint seller in Chongqing. He does have concerns: "I am still not sure whether my investment is legal or not," he says. "I can manage default risks by screening borrowers, but there is nothing I can do if the whole website turns out to be a scam."
Before it's here, it's on the Bloomberg Terminal.
LEARN MORE