Feeding Frenzy: 'Fast Casual' Restaurant Behavior
How you navigate the lunch-hour assembly line says a lot about you
by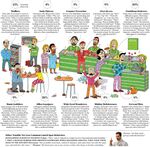 "Fast casual" restaurant chains, best exemplified by the massively popular burrito factory Chipotle, combine traditional fast-food convenience with sleek, upscale settings and the suggestion of healthfulness. These establishments represent a sector of the food market that grew in sales by 8.4 percent last year—more than twice the growth rate for the market overall, according to food-industry consultancy Technomic. The masterminds behind Chipotle are even piloting an Asian version of the formula called ShopHouse, in Washington, D.C.
Office workers religiously flock to these venues. "They're leisurely compared to McDonald's or Burger King," says Michael Pollan, author of The Omnivore's Dilemma, "but still very rushed compared to a real restaurant. You can feel more self-righteous there because you're getting less-processed, higher-quality food, but you're not necessarily getting less calories." This bustling New Age dining world isn't without its risks. "If you're new to the experience, you can be thrown to the wayside," says Nutritionix.com co-founder Matt Silverman. Recently, Bloomberg Businessweek staked out midday magnets Pret A Manger, Così, Fresh & Co., and Chipotle in midtown Manhattan, and sought out commentary from Pollan; Silverman; Pier Forni, director of Johns Hopkins's Civility Initiative and author of Choosing Civility; and Larry Thomas, who played the memorable Soup Nazi on Seinfeld.
Before it's here, it's on the Bloomberg Terminal.
LEARN MORE