Draghi Overpromised What the ECB Could Achieve
By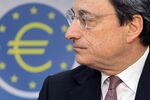 As any Olympic athlete can tell you, it's risky to promise a victory before the contest starts. Mario Draghi, president of the European Central Bank, apparently didn't consult with any athletes before his speech in London on July 26, at which he said: "Within our mandate, the ECB is ready to do whatever it takes to preserve the euro," adding: "And believe me, it will be enough."
The actions the European Central Bank announced on Aug. 2 fall short of the promise, at least in the view of the financial markets. Yields on Italian and Spanish government bonds rose in early trading after the ECB's announcement, indicating doubts about whether the ECB's plan will get the job done.
"Traders and investors who expected immediate action are, and should be, disappointed," High Frequency Economics, a U.S. consulting firm, said in a note to clients.
At a press conference at the ECB's headquarters in Frankfurt, Draghi said the ECB—Europe's equivalent of the U.S. Federal Reserve—intends to join forces with governments to buy bonds in sufficient quantities to ease the region's debt crisis. But he conceded that the Bundesbank, Germany's central bank, the most powerful in Europe, has reservations about the plan.
Draghi said bond purchases would likely focus on shorter-term maturities and would not violate European Union rules that prohibit the financing of deficits. Officials at the Bundesbank worry that if the ECB starts buying bonds from governments, which is the equivalent of lending them money, it will effectively enable them to run bigger fiscal deficits with impunity.
After Draghi's London promise, investors gained confidence that Italy and Spain would come through the euro crisis, and they bid up the prices of their government bonds, pushing down their yields (and thus the nations' borrowing costs). Italian 10-year yields fell from 6.4 percent on July 25 to 5.9 percent on Aug. 1. But they jumped to almost 6.2 percent an hour after Draghi's press conference. Spanish 10-year yields, which dropped from 7.3 percent on July 25 to 6.7 percent on Aug. 1, were up to nearly 6.9 percent after the press conference.
Draghi "put his personal credibility on the line" with his promise in London, Erik Nielsen, global chief economist at UniCredit Bank in London, told clients on July 28. The question is whether that credibility has been damaged.
Before it's here, it's on the Bloomberg Terminal.
LEARN MORE