Customer Service Gets the B-School Treatment
Francesca Di Meglio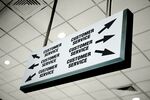 In the past 10 years technology has made consumers more powerful than ever. Social media and smartphones have made it easy for customers to share feedback on the spot, and they expect companies to respond swiftly and courteously when things go wrong. If snafus aren't serviced, they can quickly snowball, taking careers, profits, and market share with them.
It's no wonder, then, that the central obsession of business—finding and keeping customers—is quickly gaining adherents in business schools. Professors at top schools report that interest in the topic among both undergraduates and MBAs is growing, and customer service is now on the research agenda for many B-school faculty. B-schools, like businesses, are no longer paying lip service to customer service. They're taking it seriously and, some say, it's about time.
"You can't do anything good in business if you treat the customer poorly," says Leonard Berry, a marketing professor at Texas A & M University's Mays Business School. "I immerse my students in a different philosophy of business that puts the customer at the center of everything," he adds. "A lot of people talk about that, but few do it."
In his services marketing course for MBAs and executive MBAs, Berry employs a potpourri of teaching methods, including having students keep a service diary in which they catalogue every service experience they have in a given week. He also has them write letters to managers about their positive and negative service experiences. The goal, he says, is to get future managers to make connections between service and their own lives, so the lessons stick.
Observing customer service is one of the most popular tools business school professors use. At the University of Maryland's Smith School of Business, which has a research center dedicated to customer service, professor Janet Wagner has graduate and undergraduate students work in teams on a "service blueprint," a diagram of the sequence of activities involved in serving a customer. In the past, MBAs have created a blueprint of the service experience at a doctor's office. These projects always end with students offering recommendations for improvement.
While technology has made customer reviews and complaints more pervasive, it has also helped companies track customer opinions and demographics more easily. At Vanderbilt University's Owen Graduate School of Management, students in the customer relationship management course must analyze data to measure the behavioral and financial impact of customer satisfaction and loyalty programs.
Traditional teaching methods play a role in many of these customer service courses, too. Teaching undergraduate students the processes for handling customer service experiences, such as complaints, is a priority for Jeff Tanner, the associate dean of research and faculty at Baylor University's Hankamer School of Business. He tries to drive home the message that customers today benchmark companies against their best experiences and not necessarily competitors in the same industry. "We as a university get judged by students against Disney, where they might have had their best service experience," Tanner says. "We must broaden our view of best practices."
Indeed, holding up examples of good customer service is something that happens in just about every business school covering this subject. At the University of North Carolina's Kenan-Flagler Business School, professor Valarie Zeithaml distinguishes between customer support, in which companies help customers deal with a complaint or problem, and customer service, or the experience one has shopping in a store or staying at a hotel, for example. Zeithaml tells students that Staples is a prime example of great customer support with its phone and in-store help, whereas companies such as Nordstrom and Four Seasons offer great experiences for customers.
Today, customer service has become bigger than it once was, and therefore it needs to be better, say professors. It is now both about reducing failures and creating memorable and pleasant experiences from the company's first interaction with a client, says Manpreet Hora, assistant professor of operations management at Georgia Institute of Technology's Scheller College of Business. Like many of the professors teaching this subject, Hora wants students to live and breathe customer service, and he says he does the same.
"Students are customers themselves," he adds. "And teaching them is a form of customer service."
Join the discussion on the Bloomberg Businessweek Business School Forum, visit us on Facebook, and follow @BWbschools on Twitter.
Before it's here, it's on the Bloomberg Terminal.
LEARN MORE