Bob Weir's Plan to Save the Music Industry
by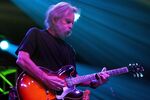 Bob Weir, a founding member of the Grateful Dead and an entrepreneurial musician, has started a company he hopes will help other musicians make some money. Tamalpais Research Institute (named for a nearby mountain range and known less formally as TRI Studios) has a state-of the-art recording and broadcast facility in San Rafael, Calif., and a revenue-sharing deal with Yahoo! Music to stream live concerts free to the site's 39 million viewers.
On Aug. 3, TRI will present "Move Me Brightly," a birthday celebration in honor of what would have been Jerry Garcia's 70th (he died in 1995). It will include performances by members of Vampire Weekend, Phish, and The Hold Steady, among others. Weir will perform, too. Actor Luke Wilson is the emcee.
Weir calls the companies providing the revenue patrons, not sponsors. He and Chris McCutcheon, the chief executive of TRI, as well as their ad agency, Swirl Media, are selling the idea of relationships between the brand and the artists. "There's no specific product, there's no campaigns, it's a long-term relationship," says McCutcheon. TRI and Yahoo will split the revenue from these patronage deals 50-50. Then TRI will give half its share to the artists. The first company to sign on is Carhartt, which makes heavy-duty work clothing. "It's a favorite of roadies," McCutcheon says.
He expects to announce other deals in the next couple of weeks with companies he can't yet name. Except he will say that one of them is a large software company that's trying to be cool again. (Another hint: It was featured in Vanity Fair recently.) McCutcheon also says that TRI wants to create its own label and eventually stream concerts outside its studios but using the technology by remote. "This is the most open-ended of all my projects," says Weir. "It has the most possibilities."
Weir now finds himself in the seemingly comfortable position of helping to run a business. "I've been a company man all my life," he says. "The Grateful Dead was a pretty sizable enterprise. This is how I'm used to working." Weir bought the building that houses TRI out of foreclosure. It was a rehearsal space in an industrial park on the edge of San Rafael. "It was available for a song and a dance. The studio took on a life of its own. I had no idea what I was doing even as I was doing it," says Weir. "That would be the Grateful Dead tradition," says McCutcheon.
The 11,500-square-foot complex includes a main studio built with something called the Meyers Sound Constellation System, which was developed for classical music concert halls by Meyer Sound Laboratories in Berkeley. There are 80 speakers and a couple of dozen microphones placed strategically throughout the 2,000-square-foot space. From a tablet computer on the bandstand, the musicians can create all sorts of different acoustics, from a concert hall to an intimate nightclub. "This is the ultimate playpen for musicians," says Weir. He spent $5 million on it.
McCutcheon says that the Aug. 3 performance could draw as many as 900,000 unique viewers and reach 20 million over the next two months, when it will be available on demand. "Even if it's half of that, we'll be doing well," says Weir. "We always found that things work if they're good and everyone is having fun."
Before it's here, it's on the Bloomberg Terminal.
LEARN MORE