Bloomberg View: Berlusconi's Unwelcome Italian Comeback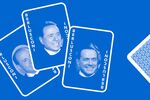 Until recently, it was hard to imagine that Silvio Berlusconi, Italy's scandal-prone former prime minister, might attempt another comeback. Berlusconi, 75, was out of favor when he left office in November, and his career in politics looked over. A busy retirement—including defending himself on a charge of paying a minor for sex, which he denies—seemed likely. Hopes were high that the emergency administration appointed by Italy's president and led by Mario Monti, no flamboyant politician but a well-regarded international civil servant, would come to grips with Italy's financial problems.
Support for the technocrats has already waned, however, and there's talk of an early election. Brooding about the low standing of his People of Liberty party, Berlusconi is contemplating reentry. He has said that when Monti's unelected administration ends its term, Italian politics will return to "normal." You might say that's the problem.
Since taking office, Monti and his team have done well, considering. They bravely raised taxes and cut public spending, bringing fiscal policy under control. Structural reform of labor markets and other backward parts of the Italian economy proved harder, and in those areas a lot is left to do.
Still, Monti has made a start. Yet Italy has already lost patience, and its economic prospects aren't brightening. Unemployment is high, and the economy is shrinking. Renewed fears over the future of the euro-area countries have driven Spanish 10-year bond yields above 7 percent. Italy's yields, despite Monti's efforts, climbed above 6 percent.
Europe's austerity caucus, led by German Chancellor Angela Merkel, could help Monti by supporting European Central Bank purchases of Italian government debt, either directly or, if that's too hard to swallow, indirectly through investors. This would lower the interest rate Italy must pay to finance its debt. Monti, in turn, would be able to show voters positive results from his budget cutbacks and fend off any seductive, populist attacks by Berlusconi. So far, Germany has opposed aggressive ECB bond buying. The longer it does, however, the more Berlusconi-like heads of state will come to power in Europe, setting back the reforms Germany seeks.
Italy's prospects will stay clouded until the country and its politicians recognize that Monti's reforms—and more of the same—need to be entrenched and extended. With or without Berlusconi, the last thing Italy needs is to get back to normal.