Beltway Insiders' Startup Helps You Lobby Congress
Kate Abbott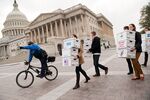 Kelly Derricks, a former psychiatric therapist, founded the nonprofit Children of Vietnam Veterans Health Alliance this year to advocate for families of soldiers who were exposed to the toxic defoliant Agent Orange. She uses "every social media outlet possible" to get the group's message to Congress. She's weighed in on hundreds of bills through PopVox, a website that lets individuals lobby lawmakers. And to Derricks' surprise, her representatives have actually responded to explain where they stand.
Congressional offices used to gauge voters' interest in an issue by the number of letters they received. Now, with citizens able to blast off an e-mail in seconds or reach politicians on Facebook and Twitter, it's a growing challenge to "separate the signal from the noise," says Brad Fitch, director of the Congressional Management Foundation, a nonprofit that aims to make Congress more responsive. A handful of tech startups like PopVox are trying to give citizens and lawmakers the tools to cut through the noise.
The site was born from the frustration of two Washington insiders who met at a dinner in 2009: Marci Harris, then a staffer for California Representative Pete Stark, and Rachna Choudhry, a lobbyist for the National Partnership for Women & Families. Both lamented the problems that keep the public from effectively communicating with Congress and felt they couldn't fix them from their inside-the-Beltway roles. They left their jobs and launched PopVox in 2011 to be a nonpartisan platform to help citizens and advocacy groups get their messages to lawmakers.
"Individuals' inboxes are full of these calls to action and 'click here' and 'call here' and do this, and they don't feel like anyone is ever listening," says Harris. "They're either sending a gazillion messages or they backed out of the process completely."
While sites such as Change.org and MoveOn.org recruit people behind causes or campaigns, PopVox keeps messages to Congress relevant by tying them to specific bills. First, a user chooses a bill and indicates whether she supports or opposes it. Then she can add a message, verify her identity, and send the comment to officials in her district. Representatives want to hear only from their constituents, not from people who live in other districts, Harris says, so many messages sent online are ignored.
The site's data are publicly available, so anyone can see how sentiment toward a bill matches a representative's actions on it. Interest groups can signal where they stand, too, and use PopVox to rally supporters. PopVox makes money by selling premium subscriptions to lobbying groups to help them tell how effective their campaigns are by measuring, for example, how many people who viewed a Web campaign sent comments on a bill. The company has about 20 paying clients so far, Harris says, and while it's not yet profitable, it has signed up 135,000 users and has sent half a million messages to Congress.
PopVox delivers 99 percent of the messages electronically via the internal systems congressional offices use, and the company hand delivers the few messages that don't go through because of errors. (In July, House Democrats announced plans to integrate PopVox into their internal system so messages will reach offices automatically.) There's no way to confirm whether comments are actually read, Harris says.
The site can help lawmakers gauge reactions to their positions, says Fitch, of the Congressional Management Foundation. "If they comment on something or put something out in the marketplace, they're going to look very carefully at what the reaction is to that and have a real, instant idea of how their position is playing in the marketplace of ideas," he says.
Other entrepreneurs are targeting transparency at different stages in the political process. TweetCongress encourages voters to find if their representatives use Twitter and pushes those who aren't using it to sign up. Votizen connects friends through social networks based on previous voting behavior to rally support behind a particular election campaign. The site has raised $2.25 million from investors, including PayPal co-founder Peter Thiel and former Facebook President Sean Parker.
Votizen co-founder Jason Putorti wants to refine campaigns by emphasizing social influence rather than money. He says that personal recommendations have the greatest impact on such decisions as whom you vote for. The company plans to make money by introducing specific campaigns to influential users. "You can make winning elections cheaper if you have people out there that can demonstrate they can turn out hundreds of votes," Putorti says.
Despite the money in politics and public disgust with Congress, advocates such as Derricks believe technology can help hold lawmakers accountable. "You may not make a difference on a specific bill," she says, "but when those representatives know your eyes are open, they're going to start paying attention again."
Before it's here, it's on the Bloomberg Terminal.
LEARN MORE