Amtrak's Grand Plans for Its Northeast Line
Amtrak hopes for federal aid to upgrade its one moneymaking line
By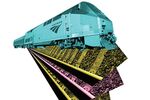 Every year, Amtrak begs Congress for money. The government-owned railroad can't keep its trains running without more than $1 billion in subsidies, which never fails to spark grumbling from lawmakers who would like to see the rail line privatized.
This year, Amtrak is trying a new negotiating tactic: It's saying it needs hundreds of billions more. The railroad is proposing a renovation of Washington's Union Station that would cost at least $6.5 billion, doubling train capacity and carving out space for bullet trains that don't yet exist. Other grand plans include a three-decade, $151 billion project to provide 220-mile-per-hour train service between Washington and Boston.
Amtrak Chief Executive Officer Joseph Boardman says it makes sense to float the proposals, even at a time when cost-cutting is foremost in Congress's mind, because demand is "growing through the roof." The railroad carried a record 30.2 million passengers last year and says it's on pace to top that in 2012. "We don't see the Northeast Corridor as a ward of the state," says Boardman. "People want to ride the train rather than being stuck on the highway."
Washington to Boston is the railroad's busiest stretch—and the only place in the 21,200-mile nationwide rail system where Amtrak collects enough revenue from tickets to cover operating costs. The railroad claims that if the corridor is upgraded, ridership would grow to 43.5 million annually, four times what it is now. Amtrak says revenue generated by the increased ticket sales would go toward maintaining the line. Whether it could also be used to subsidize the money-losing parts of the system "is a policy question that needs to be determined," says Amtrak spokesman Steve Kulm.
Congress has until next year to decide on funding for Amtrak before its current spending plan dries up. Boardman says he welcomes the coming negotiations. "If you don't have a vision or a plan for where you're going," he says, "you're not going to get anything funded."
BOTTOM LINE -
The bottom line: At a time when Congress is looking for cuts, Amtrak is proposing a $151 billion upgrade to its Northeast line.
Before it's here, it's on the Bloomberg Terminal.
LEARN MORE