Why Chick-fil-A and Other Brands Aren't Being Bullied
The Web was supposed to give angry consumers power over companies like Chick-fil-A
By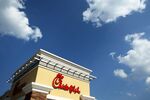 If brand managers controlled the universe, big companies would glide through the culture wars with safe and steady neutrality, never taking sides. Chief executive officers at high-profile companies would never pledge $2.5 million in support of gay marriage (as Amazon.com's Jeff Bezos did in July) or speak out publicly against same-sex marriages (as Chick-fil-A's Dan Cathy did recently in an interview with Biblical Recorder). "If you're a big publicly held company, you don't want to piss off anybody on any side of any issue," says Claudia Caplan, the chief marketing officer of RP3 Agency. "You want to be Switzerland."
In 2012, with cable-TV news producers and social media instigators constantly on the prowl for new controversies to inflame, it's never been easier for a discontented group to launch a boycott of a brand and to recruit like-minded consumers. Yet, despite the wishes of marketing advisers everywhere, big brands are enraging consumers left and right. The website Ethical Consumer lists dozens of active boycotts targeting the likes of Adidas, Bacardi, Barclays, Burberry, Caterpillar, Estée Lauder, H&M, and on and on.
If there's any solace to shareholders, in the endless push-and-pull between company critics and corporate defenders, the media environment seems lately to have handed an unlikely advantage to brands. Not long ago, boycotters were often more skillful at spreading their message on the Web or via Twitter and Facebook than the corporations they were targeting, says Wayne Arnold, global CEO of Profero, a digital ad agency. He cites Nike, where a decade ago Web-savvy critics of its labor practices skillfully used search engine optimization to inundate the Internet with negative portraits of the shoemaker. If you typed "Nike" into Google, recalls Arnold, the first page of organic search results would be filled with links to sites critical of the company's ethics and largely absent of counteracting information from the brand.
Now when you search for "Nike," one of the primary links is nikebetterworld.com, where readers can learn about the company reducing landfill waste by creating jerseys out of recycled polyester and saving trees with lighter shoeboxes. "The brands now have the ability to create messages in their own tone of voice and have gotten better at getting their core values out there," says Arnold.
The key, says Rob Norman, CEO of GroupM North America, one of the country's largest media buyers, is for brands to craft their corporate image during quiet times and then to aggressively amplify those glowing self-portraits during moments of peak public interest. "The idea of producing a bank of preemptive content—about how we produce our food, how we pay our employees, how we run our diversity policies—and then activating them with paid media at the moment that the controversy arrives is almost a prerequisite strategy for everyone now," says Norman.
Savvy brand managers no longer have to sit back and wait for journalists to call to put their spin on a story. Instead, they take a more proactive approach—for instance, by buying ads on Google that specifically target keywords associated with a boycott, protest, or legal battle. Various groups in recent years, including users at Change.org, have called for a boycott of Chevron to pressure the company to take responsibility for environmental damage caused decades ago by oil drilling in Ecuador's rainforest. If you type "Chevron and Ecuador" into Google, the first two results are paid links to Chevron sites filled with text and videos defending the company's values and counterpunching against "the illegitimate case against Chevron in Ecuador."
One concern for brands is that social networks have accelerated the speed at which damaging news spreads. Somebody uploads a video on YouTube of a rat in a Taco Bell, and suddenly millions of people around the world can be sitting at their desktops, dry-heaving, and swearing off Chicken Chalupa Supremes for the rest of eternity. With the window to reassure customers so brief, preparing for potential backlashes ahead of time is crucial, says Norman.
That's why many CEOs are now being advised to perform a thorough social and political vetting of their company—that is, to imagine what in their corporate boardroom, supply chain, or retail experience could potentially trigger a backlash and to think of ways to defuse it. "They need to put themselves as an entity through a background check almost like you'd expect when you're selecting a vice president," Norman says.
Thomas Gensemer, managing partner of Blue State Digital, a marketing agency focused on digital strategy, whose past clients have included Barack Obama's 2008 presidential campaign, says that until recently brands too often waited for the storm to hit before trying to mobilize their followers on social networks. He points to BP's faltering Web efforts during the Gulf of Mexico oil spill of 2010 as a prime example of how difficult it is to launch a defense on social media when your company is already caught up in an emergency. "You can't just go to people and ask them to be part of your push back in times of crisis," says Gensemer. "Your digital audience is an asset. You have to find it, budget for it, and constantly cultivate it."
One advantage businesses have is that analytic tools have made the process of assessing the risk of any protest relatively easy. In an analog world, if a bunch of protesters showed up outside a factory, thrusting signs in the air and marching in circles, a brand manager would have to extrapolate from local TV news footage to try and quantify the threat. These days, brand strategists possess precise social media monitoring software, which can tell them exactly how many people are expressing disgust and whether the outrage is growing or dissipating. That makes it easier to know when to spring into action, and when to ride it out. "You have to pick your battles," says Gensemer. "I've had clients who will send me links worried about their names being attacked by the most fringe blogger in Eastern Europe. It's really hard to get people to ignore things until you can dig in and show them, 'Hey, this site has received 10 hits.'"
The speed of the current media environment can also provide brands with another advantage over their detractors—newer, fresher controversies to grab headlines. "It's such a tiny news cycle for this stuff," says RP3's Caplan. "Companies can depend on that. People live in short attention-span theater. They get upset, and then they move on."
Before it's here, it's on the Bloomberg Terminal.
LEARN MORE