The Texas Democrat Who Aims to Beat Ted Cruz
By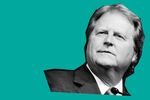 The Tea Party has toppled another mainstream Republican, this time in Texas. Lost in much of the coverage of the primary contest between Houston attorney Ted Cruz and Lieutenant Governor David Dewhurst was the November general election, which will feature a real, live Democrat. The assumption behind the media oversight, of course, is that with Texas about the reddest of the crimson states, a Democrat running for national office had better just do it as cheaply and as graciously as possible before his inevitable loss, given the party's 18-year losing record in elections for statewide offices.
Paul Sadler, the oilman's son who is opposing Cruz in November, wants to hear none of that talk. "It's not as long-shot as people think," Sadler said Wednesday from his office in Austin, the day after his own primary victory. "My phone has been ringing off the hook. A lot of those calls were from Republicans and independents saying, 'We're not going there,' and there are a lot of them." "There" being the Tea Party.
Sadler, an attorney from Henderson, in the woods of east Texas, served in the Texas House from 1991 to 2003 before running unsuccessfully for the state Senate. He casts himself as a "problem solver" who will bring a practical, commonsense approach to the U.S. Senate and says this approach appeals to "mainstream Texans" who are tired of extreme polarization. His campaign won't have much room for national Democrats such as President Barack Obama or Senate Majority Leader Harry Reid—not that they've offered to help—and, in fact, the national party hasn't given Sadler's campaign any funds in a race it considers hopeless.
Sadler contends that no one has "done the math" on Cruz's electoral appeal among "mainstream" Texans, who he says consider the Tea Party a radical, fringe group. "It's amazing to me but that's the simplicity of the media and the so-called pundits." He said he won't spend any of his own money on the campaign because the state is too big, but he believes the Tea Party label will help him to raise funds among Texans alarmed by the group.
"Do not think for a minute that that [primary] vote reflected Texas," Sadler said. "It was extraordinarily low turnout." Turnout was projected to be 1.1 million voters, the Houston Chronicle reported Wednesday. That's down from the spring primary, when Dewhurst failed to win enough votes to avoid the runoff, and 1 million fewer than the 2.1 million voters in 2010, when Obama and other Democrats helped to generate turnout.
Regular or not, however, Cruz managed a large, come-from-behind victory over Dewhurst with 56 percent of the vote and millions of dollars from Tea Party and other conservative groups, not to mention inspiring a zeal among his voters that will carry over to the general election. Sadler is not deterred, calling the Tea Party "an angry mob of folks inside the Republican Party" that does not fare well beyond primary elections. "This is a far-right, extremist, Tea Party candidate," Sadler says of Cruz.
The trouble for Sadler is that many Texas voters are counting on their next senator to have exactly those qualities.
Before it's here, it's on the Bloomberg Terminal.
LEARN MORE