Tell Your Boss What You Really Think, Anonymously
By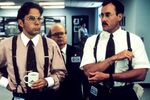 Many a worker has thought: "I'd like to give my boss a piece of my mind!" Well, get your creative juices flowing. A new service, Tellyourbossanything.com, launched by Canadian startup Happiily on July 30, allows users to send managers anonymous feedback about—more or less—anything.
Just don't try sending a message like, "You're a f—— a–hole and I hate you," says Tom Williams, 33, the founder of Happiily, a company started in Victoria, B.C., in 2011. Filters block messages containing curse words. Violent phrases like "go postal" and "killing it" will also be caught. In other words, this is not a forum to vent anger, but one for constructive criticism.
Managers can respond to the commenter, and both sides can rate the feedback and resolution of the issue. "It's an easy way [for employees] to feel secure that they won't get retribution if their manager doesn't like what they say," says Williams. Happiily, which also runs the workplace service Happiily.com, aims to help employers identify issues, especially emotional ones, that affect worker performance.
Comments online can be cruel, especially when authors are anonymous. "Don't be mean and we'll have your back," states the policy on Tellyourbossanything.com. That means if an employee doesn't play nice and a manager flags the message, Happiily can disclose the sender's identity. "Be mean, and you get what's coming to you," says Williams.
On the other hand, if you're dying to tell your boss that you have a crush on him or her, or just compliment them on their ripped abs, Williams says he'd be glad to see the site facilitate a match.
Users sent hundreds of messages on launch day. While the service offers a convenient way to vent, Williams says the feedback was not all angry (Happiily does not read the e-mails, but in one of the fields users select how they're feeling, such as "happy," "angry," "frustrated," or "confused," among other choices). "Most people are not using it to complain, but to give constructive advice," he says.
Managers see messages from only one sender for free. After that, it costs $20 per month to unlock additional senders' messages. If you have a lot on your mind—and your boss is a cheapskate—you might want to act before a coworker beats you to it.
Before it's here, it's on the Bloomberg Terminal.
LEARN MORE