How to Set Odds on the Olympics
U.K. brokers are offering thousands of bets on the Games. Brits prefer the ponies
by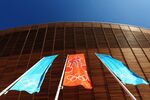 Before the opening ceremony for the 2012 Games, William Hill, the largest betting house in the U.K., was offering bets on whether London Mayor Boris Johnson would set his hair on fire with the Olympic flame. Betting closed at odds of 33 to 1. "It was 25 to 1, but then he had a haircut a couple of days before the ceremony," says Joe Crilly, who helps set prices for special bets at William Hill. How did Crilly, a 25-year-old who's been with the company for three years, come to those odds? "Well, you don't need to do any research when you see the man," he says at the company's offices in North London.
In the end, Johnson did not set his hair on fire and William Hill collected about £500 ($777). There are thousands of wagers to be made on the London Games, both online and at about 9,000 shops around the U.K. Ladbrokes, the country's second-largest broker, is offering more than 11,000 bets, including in-play wagers on the events as they happen, according to spokesperson Jessica Bridge. Houses such as William Hill, Ladbrokes, and Coral are coming up with prices for everything from medal totals, to the men's 100-meter track final, to judo. In many cases, they are making guesses about sports they do not usually offer. "It's quite a lot of research," says Graham Sharpe, media relations director at William Hill, "because it's difficult to discover how well the eighth-ranked weightlifter or pistol shooter in a particular class may be feeling that morning."
Sharpe, a 61-year-old with spiked gray hair and wearing a pinstriped suit and dotted purple tie, has been with the company for 40 years. Tacked to the wall next to his paper-strewn desk at the William Hill offices is his list of contacts for roughly 50 "compilers," whose job it is to come up with odds for all of the offerings. Most of them work at the head offices in Leeds or in the company's offshore location in Gibraltar. When the Olympics come around, says Sharpe, they have to add a sport or two to their expertise. "They will have a passing interest in it already," he says. "They've just got to bring themselves up to speed on all the most recent forms." The company will also rely on outside consultants to handicap some events. Bridge says Ladbrokes has added staff to cover some of the lesser-known sports and now has more than 100 employees setting odds on the games.
The riskiest moment for the houses is when they first publish odds. That's when savvy bettors might flock to one side of an easy bet. When that happens, the brokers adjust quickly. "That's the real signal that you may have got something wrong," says Sharpe. Ladbrokes, says Bridge, was offering 2-to-1 odds on opening ceremonies director Danny Boyle receiving a knighthood. So many punters, as they call bettors in England, liked those odds—including a man in Manchester who walked into a shop and put down £5,000—that Ladbrokes had to suspend betting and adjust the odds to 5 to 4.
Even special bets can require some research. William Hill, for instance, offered odds on what color Queen Elizabeth II would wear during the opening ceremony. The favorite, says Crilly, was yellow at 2 to 1. Pink, which the Queen wore, paid 5 to 1. "It's about looking at what she's worn in the past," says Crilly, "because she does make a few appearances at sporting events. And I'm sure she wouldn't be seen twice in the same color outfit." Crilly sent guidelines to the compilers, who researched the Queen's past choices and came back with prices. "In hindsight," says Crilly, "I think pink probably was an obvious choice because of the fact that the [Olympic] logo is pink."
While handicapping the Queen's wardrobe choices or, say, a badminton match in which the players deliberately fail can be tricky, the houses know they won't be severely punished for being wrong on these events. Not much money will likely be on the line. Although the Olympics draw the eyes of the world, they are a tiny part of the gambling universe. Even with professional soccer in hiatus, say both Sharpe and Bridge, the games will be a small fraction of the total amounts staked. "The Glorious Goodwood [a horse racing festival in West Sussex] will outrank the Olympics," says Sharpe. Ladbrokes anticipates £15 million to £20 million in turnover during the games; William Hill, about £25 million. "We'll be happy if the turnover for the whole Olympics is equal to a good Premier League [soccer] weekend when we can turn over maybe £30 million or £35 million," says Sharpe. William Hill's annual turnover is around £18 billion; Ladbrokes' around £13 billion. Football and horse racing are by far the biggest contributors at both.
Yet with London in the heart of the gambling world and online gaming now well advanced, 2012 promises to be the biggest-betting Olympics yet. "Everything's in place," says Sharpe. "If the Olympics is ever to mean anything significant in betting terms, you'd imagine it would be this one." William Hill has already taken bets from 182 countries. Most of the wagers at both houses are on glamour sports such as soccer and tennis, as well as patriotic bets on British favorites, which puts the houses in the awkward position of rooting against the homeland. According to Bridge, many Brits backed cyclist Mark Cavendish to win the road race last Saturday. He finished 29th. "We got to keep the punters' money on Saturday," she says. Those few who bet on Kazakhstan's Alexandr Vinokurov, however, got paid at 66 to 1, the longest odds winner of the games so far.
At a Ladbrokes near the Forest Gate train station just a couple miles from Olympic Park, three punters were sitting watching the screens and checking the odds at other houses in the trade papers. None was posting bets on the Olympics. "I would have had bet on [British cyclist] Bradley Wiggins," said John Georges, "but the prices were no good." The 55-year-old, who lives nearby, says he mostly bets football and horses, and "sometimes them silly machines." To get in the spirit, I put a fiver on the Argentines to win the double scull event in rowing on Saturday at 5-to-1 odds. (I don't really know what double scull is.) And William Hill offered 1,000 to 1 on my 6-month-old son winning an Olympic medal in his lifetime. I'm putting £10 on that. "Think you're on a winner," writes Sharpe. No pressure, kiddo.
Before it's here, it's on the Bloomberg Terminal.
LEARN MORE