ForumWatch: Is the MBA Still for Career Changers?
Francesca Di Meglio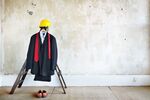 With the economy recovering at a snail's pace, career placement advisers at top business schools have been suggesting that students stick to what they know. Although career-changers have always been fixtures at business schools, they are being encouraged to make less-dramatic leaps than ever before.
So what are those who desire an over-the-top career change to do? That was the very question on the mind of evelina, a participant on the Bloomberg Businessweek Business School Forums. The 36-year-old librarian and mother of two wants to become a financial analyst. So far, one person has responded to say that it will be an uphill battle, considering her age and lack of experience. What do you think? Can evelina make her dreams come true? Share your opinion or words of encouragement at the "Career Change" discussion thread.
Editor's Note: This blog post is part of a series about discussions taking place on the Bloomberg Businessweek Business School Forums , where prospective MBA program applicants, current students, and recent alumni trade admissions tips, job-hunting advice, and the occasional barbed comment. We invite you to join these discussions or start one of your own.
Before it's here, it's on the Bloomberg Terminal.
LEARN MORE