EMC Rumbles On as the Ultimate Data Center Survivor
By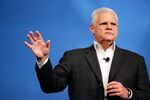 A few weeks ago, EMC's Chief Marketing Officer Jeremy Burton sat across from me at a restaurant and called Dell "a beached whale." Burton went on to describe that whale as smelly and bloating.
EMC has not cared much for Dell ever since the companies' decade-long storage partnership blew up last year. They had been making and selling storage systems together, with EMC focusing on large customers and Dell focusing on small to mid-size businesses. It was a win-win until it wasn't, and, as Burton tells it, Dell tried to encroach on EMC's turf.
On Wednesday, EMC made its feelings for Dell perfectly clear when it announced a new partnership with Lenovo Group. The companies plan to build and sell server and storage systems together and Lenovo has vowed to boost EMC's prospects in China. As it happens, the types of servers and storage systems Lenovo sells compete most directly against those sold by Dell, and Dell has long eyed expanding in China as a priority. So I'm pretty sure EMC code-named its tie-up with Lenovo "Operation Poke the Whale."
In the big scheme of things, this partnership will probably end up as a small deal. Yet it's another example of how EMC and its CEO Joe Tucci have done a pretty extraordinary job of experimenting with different partnerships and acquisitions.
About 10 years ago, it would have been easy to peg EMC as a lost cause. It sold super-expensive storage systems that a dwindling number of customers wanted—and that was just about all it sold. Today, it has a huge software portfolio that stretches from data management to security and analytics. Crucially, EMC bought VMware in 2004 as well. It's hard to think of a better acquisition done by any company in the last decade. EMC bought the most disruptive data center technology of its era without really disrupting its own storage business and helped transform the investment profile of the company.
In fact, among the big hardware titans, EMC is the only one that seems to have kept investors' interest. Over the past five years, shareholders have continued to view EMC as relevant, while doubts surround Hewlett-Packard, Dell, and Cisco Systems. This chart of share prices shows the latter three companies have been pummeled into the ground of late, and a lot of the investor sentiment would seem to hinge on the idea that these companies have no new tricks up their sleeves—a notion exacerbated as we enter an era of further disruption through cloud computing.
There are people out there who say EMC got lucky with VMware. It purchased the startup for $635 million—a bargain in retrospect—and it's not clear that EMC understood just how big VMware's virtualization technology was going to be for the industry. That might be the case but it's still the company that managed to pull off the deal. EMC has also defended its core turf against wave after wave of startups that promised to turn storage into the ultimate commodity industry and crush EMC's margins.
EMC's share price has leveled off dramatically since the 1990s when it was among the best performers around, but the company has proven itself a survivor and then some.
Before it's here, it's on the Bloomberg Terminal.
LEARN MORE